Montego Bay Seafood
Montego Bay Seafood
by Karen Harrell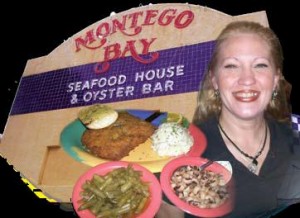 Originally posted February 2009
One of my mother's favorite shows was the sitcom "Cheers."
Cleverly written, the show featured a camaraderie and "sense of place" that's just hard to find.
Although the show was based on a bar, there is such a place in Panama City Beach, Fla.
Caribbean-themed Montego Bay Seafood and Oyster House features
good food, tasty beverages, budget-friendly prices and a warm welcome.
"The Snowbirds are very important to us," said manager Steve Hagan who has been with Montego Bay for 18 years. "We've had a very good repertoire with them and they come back year after year."
One of the most popular items on the menu is the $10.95 seafood platter served fried or grilled. The platter is 0verloaded with shrimp, fish and oysters.
"We've had several tell us that our seafood platter is as good as the one  they pay $28 for at other restaurants," Hagan said.
One of most popular items on the Fall & Winter Specials menu is the Jamaican Chicken served chargrilled with sweet and sour Jamaican glaze on a bed of Cuban rise topped with sweet red and green peppers and onions for $8.99. The restaurant features 10 special entrees on the special menu ranging from $7.99 to $10.99.
Some choose the veggie plate which is a deal at just $4.99. More than a dozen choices are available from fried okra to red beans and rice, black eye peas, garlic mashed potatoes, yellow corn and more.
Along with a variety of seafood, pasta and Caribbean dishes, patrons can choose from home style entrees such as chicken fried steak, grilled or fried pork chops and liver and onions. Each entrée includes a choice of two vegetables.
Bartender Dianne McAbee holds court most days at the restaurants expansive bar. Many patrons dine at the bar where they can interact with McAbee and other customers.
"I've been here for four years now and I feel like I have 28 sets of grandparents," said the gregarious McAbee who keeps in touch with many of her customers throughout the year. "I love my Snowbirds and they are just happy to be here."
Montego Bay is located in the heart of Panama City Beach near the expansive Edgewater Beach Resort and the Holiday Inn Sunspree. A second location is on Thomas Drive at the Curve. The winter menu features a Happy Hour "All  Day…Every Day" with $2 well drinks, $2.25 house wine and $1.25 draft beer.
What: Montego Bay Seafood and Oyster House
Where: Two locations. The Shoppes at Edgewater at 473 Beckrich Road or 4920 Thomas Drive on the Curve in Panama City Beach, Fla.
Ambiance: Resort casual.
Known for: $10.95 seafood platter, veggies, Caribbean food, drink specials.
Details: 850-233-6033 or www.montegobaypcb.com