By Karen Harrell
At first, I thought it was an illusion.
Jutting out nearly to the water's edge was what looked like a restaurant.
Convinced that it was an abandoned building from one of the recent storms, I was quickly reassured that, yes, Sea-n-Suds was a fully operational restaurant.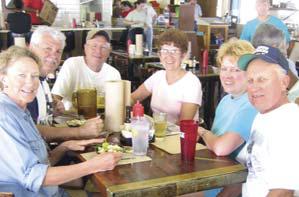 The sign for the restaurant on Beach Boulevard in Gulf Shores, Ala., is twinned out with Young's Suncoast Realty, but once again, I thought it was a remnant from Hurricane Ivan or Katrina.
That day I decided to investigate what surely was one of the coast's most hardy survivors!
The first thing I noticed was the long boardwalk leading to the restaurant. The walkway ended with a sign that announced two things: it was a nonsmoking restaurant and no skate boarding was allowed.
When you live in Florida, it's easy to forget that not all states mandate non-smoking restaurants.
Finding this at Sea-n-Suds was a welcome surprise.
On this warm early-January day people were out enjoying the beach walking, wading in the water or sitting in beach chairs just enjoying the unseasonable temperatures.
I got there before the lunch crowd arrived and snagged a window seat. For a moment it felt as if I was on a cruise ship, the water was so close.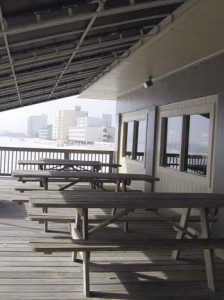 An expansive deck fronts the restaurant with picnic tables and particularly fun for kids is a set of scenic binoculars that you feed quarters into. On our second visit my husband and daughter spotted a half-dozen dolphins jumping and playing.
A quick scan of the restaurant revealed basic, old-fashioned décor with few pieces of artwork, concrete floors and solid tables and chairs.
The menu featured mostly fried foods, but a sign on the table gave my conscience a rest. The restaurant cooks its foods in a low saturated oil that features no trans fats. A fresh salad bar also makes a nice, healthy addition.
I was also pleased to see that the restaurant offered half-orders on entrees, which is particularly helpful at lunchtime.
I chose the fried shrimp and added a salad bar. The salad bar featured a couple of things I particularly liked: the carrot sticks and a chicken salad. Trying not fill up on salad, I set aside my bowl to wait for my food.
Half expecting a plate full of fried bay shrimp, I was pleasantly surprised to see six plump, lightly breaded fried shrimp teamed with a heap of crinkle cut fries, two hush puppies and a small container of coleslaw.
My next surprise came when the waitress brought a small container of horseradish to the table and set it down. I asked what it was for. She said "to make cocktail sauce." The older I get the more willing I am to 'fessing up when I don't know how to do things so the waitress obligingly came back to the table and showed me how to make cocktail sauce (add ketchup and Worcestershire sauce to the horseradish with Tabasco if desired.)
On our second visit, my daughter got the fried oysters and my husband tried the restaurant's signature gumbo made from a closely guarded family recipe.
This restaurant is indeed a survivor. It is the only stand-alone gulf-front restaurant left on the Alabama Gulf Coast.
The owners learned their lesson in the late 1970s when they rebuilt on cement pilings after Hurricane Frederic. 2015 marks the 40th anniversary for this landmark business.
Originally posted January 2007