Fort Walton Beach Snowbird Club
The Fort Walton Beach Snowbird Club is located on Okaloosa Island in Fort Walton Beach Florida. With over 600 hundred members, the Club offers many activities and e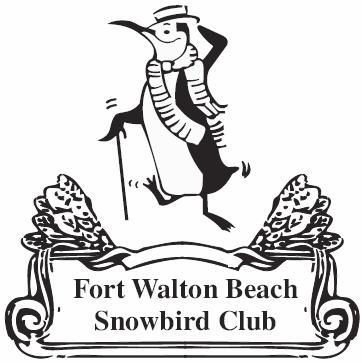 vents to it members besides the camaraderie and fellowship of others who are in Fort Walton Beach area to enjoy the warmer weather and beautiful beaches during the winter months.
Initial 2015 Registration – January 2nd, 5th & 6th after that Tuesday Meetings only in Jan, Feb & Mar 3. at the Elks Club from 10:00 AM to 12:00 Noon.
Next General Meeting – January 6, 2015. Registration and meetings are at the Elks Club, 1335 Miracle Strip Pkwy SE, Ft Walton Beach, Fla. The club sponsors craft, cards, games, golf outings and social events. Details: information@FWBSBC.com or www.fwbsbc.com/.