Fort Walton Beach Snowbird Club
The Fort Walton Beach Snowbird Club is located on Okaloosa Island in Fort Walton Beach Florida. With over 700 members, the Club offers many activities and e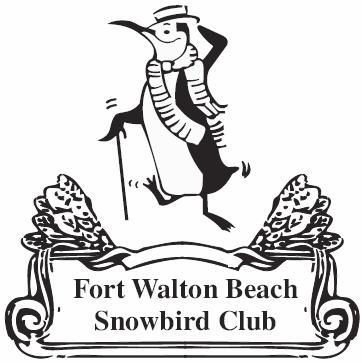 vents to it members along with the camaraderie and fellowship of others who are in Fort Walton Beach area to enjoy the warmer weather and beautiful beaches during the winter months.
Initial 2016 Registration – January 4th, 5th & 6th and after that Tuesday Meetings only in Jan, Feb & Mar 1st. at the Elks Club from 10:00 a.m. to 12:00 Noon.
Next General Meeting – January 6, 2016. Registration and meetings are at the Elks Club, 1335 Miracle Strip Pkwy SE, Ft Walton Beach, Fla. The club sponsors craft, cards, games, golf outings and social events. Details: information@FWBSBC.com or www.fwbsbc.com/.
Year Club was Found:
Location:
Ft. Walton Beach, Florida
Officers:
OFFICERS
PRESIDENT                 Larry Cox                    Illinois
PAST PRESIDENT     Phil Bellefeuille        Minnesota
VICE PRESIDENT      Debbie Garrett          Ontario
TREASURER                Sheena Baker            Ohio
SECRETARY                Judy Beine                  Wisconsin
 
Contact Info:
www.fwbsbc.com or email us at information@fwbsbc.com
Schedule: