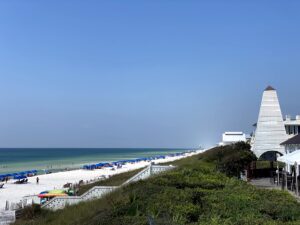 Some 20 years ago the 50-mile stretch between Destin and Panama City Beach was little more than sparsely populated beach communities surrounded by scrub pine.
Today, world-class communities dot the landscape spurred by the New Urban development called Seaside, familiar to moviegoers as the location of The Truman Show.
The Beaches of South Walton and 30A generally attract a more upscale traveler. A favorite destination of Atlanta's upper crust, the area boasts large four and five bedroom homes frequented by multi-generational families. But in the winter, those families are often bound by the school schedule and rentals that cost $3000 to $5000 per week in the summer can be found for a fraction of that cost.
In fact, many of the larger homes are rented by pairs of winter travelers who share the cost and the ample space. Still others like to bring their own weather-weary families down for a few days or a week's break and have the space to do so.
The South Walton Snowbird Club boasts a couple of thousand members each year and the activities list ranges from everything from crafts, dance, art and music to computers.
The 10-day Chautaugua Festival, modeled after a similar event in New York, is held in the quaint northern Walton community of Defuniak Springs.
Winter weather here can often turn chilly with highs only in the 50s and 60s dipping in into the 40s in the evenings. But veteran Snowbirds will tell you they still would rather be where the sugar white beaches just resemble snow and their golf games get a vigorous winter workout.