The Air Force Armament Museum Foundation will host an evening "to die for" with All Mobbed Up for Murder, a murder mystery dinner theater, on Saturday, February 12, 2022, at the Air Force Armament Museum, 100 Museum Dr., Eglin AFB, Fla.
The event will bring a fun twist to Valentine's Day weekend. As the story unfolds, guests can help solve the crime and are invited to dress as gangsters and molls to add to the fun. The dinner will be a plated, three-course, Italian-themed meal. Mobbed Up for Murder will be performed by Act4Mystery, a renowned area professional acting troupe that has presented original murder mysteries in public and corporate dinner theater settings, since 2003.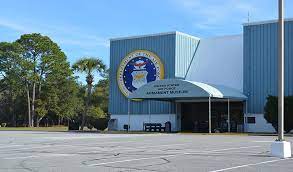 Tickets for All Mobbed Up for Murder are $50 each and are available at the Air Force Armament Museum Gift Shop. Doors open at 5:45 p.m. with a cash bar cocktail hour from 6 to 7 p.m. Dinner and performance begin at 7 p.m. Proceeds from the event will go towards the Air Force Armament Museum's expansion project.
Act4Mystery has performed nearly 40 original murder mysteries, all written by Act4Mystery's founder Paula Hilton. A California native, Hilton performed in murder mystery dinner theater and began writing her own shows. When she moved to Florida, she started her own company. The performance will also feature well-known personality Christopher Manson, who has performed stand-up comedy, published his own humor magazine, and won several "Addy" awards for print and radio advertising. He is also an award-winning journalist and cartoonist that has written for Mad Magazine, Rock & Rap Confidential and Amplifier Magazine.
The Air Force Armament Museum Foundation is a non-profit 501 (c) (3) organization. It provides funding to the Armament Museum and its programs.
For more information, call the museum's gift shop at 850-651-5253 between 10 a.m. and 4:30 p.m. Mondays through Saturdays.