What's in bloom?
Summer tropicals are everywhere: Hibiscus, plumeria, gingers, allamandas and more! Click here to view our Currently Blooming page.
Meet F. Todd Lasseigne, Bellingrath's new Executive Director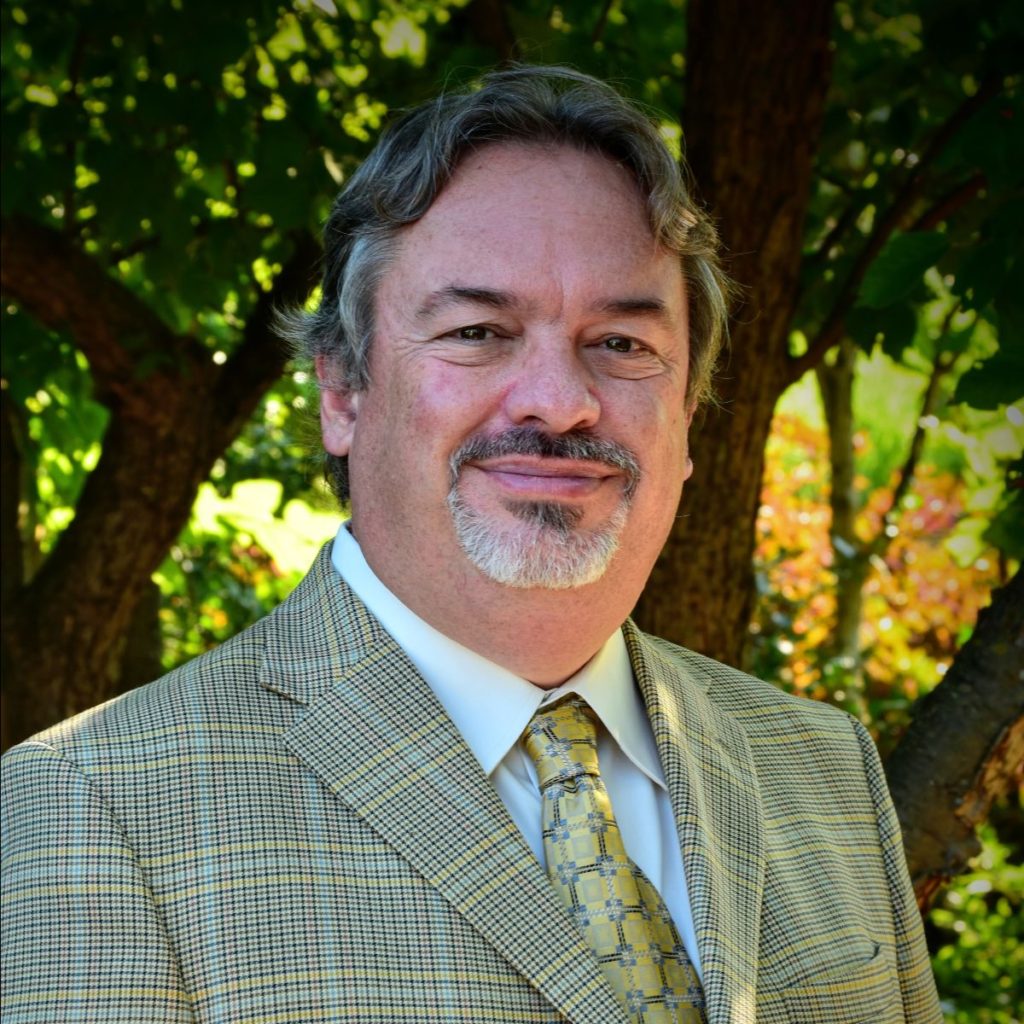 We are very pleased to announce that Bellingrath Gardens and Home has hired F. Todd Lasseigne, Ph.D., a highly respected horticulturist and public garden leader, as Executive Director.
Dr. Lasseigne (pronounced "Lah-SANG"), is currently President and CEO of Tulsa Botanic Garden in Osage County, Oklahoma, a position he has held since 2011. Dr. Lasseigne will start work at Bellingrath on Sept. 1. Click here to read more about him.
Happy birthday, Mr. Bell!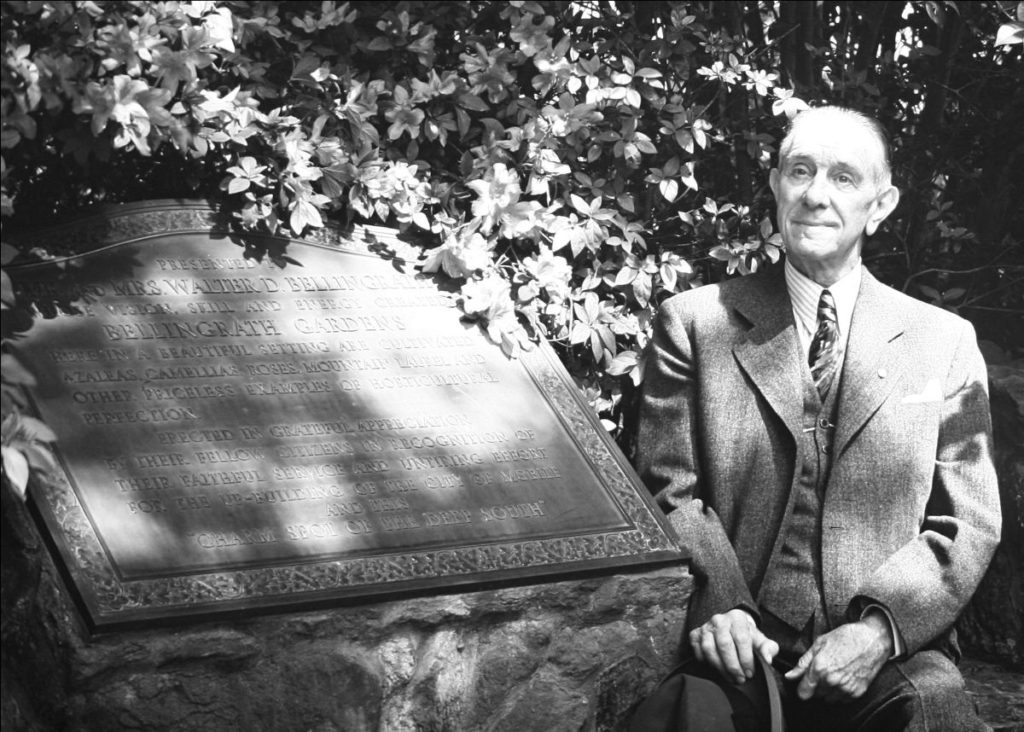 Thursday, August 6, is the 151st anniversary of Walter Bellingrath's birthday. On this date, admission to the Gardens is free to residents of Mobile and Baldwin Counties. (Please be prepared to show an ID or utility bill to prove place of residence.) Guests are encouraged to purchase tickets to tour the Bellingrath Home. In the spirit of Bellingrath Gardens' origin as a fish camp, the Magnolia Café will serve a Fried Fish Lunch! Enjoy fried fish, grits, coleslaw, hush puppies and tea, all for $11.95. The Birthday Celebration will include a complimentary slice of birthday cake for those who make a purchase in the Gift shop or Magnolia Café (while supplies last). The Azalea Trail Maids will stroll the Gardens from 9 to 11 a.m. Join us for this daylong celebration of "Mr. Bell."
August Discounts
The Gardens are a great place to enjoy social distancing in beautiful surroundings, and August is a great time to visit! Use our month-long admissions discount on combination Gardens-and-Home tickets. For details, click here.
Also in August, our photography fee is discounted by 50%. The fee includes entrance into the Gardens for the photographer and up to four participants. For details, click here. To book your photography session, please call Shanna Bennett at 251-459-8986.
Curator's Corner: When Miss Bessie got took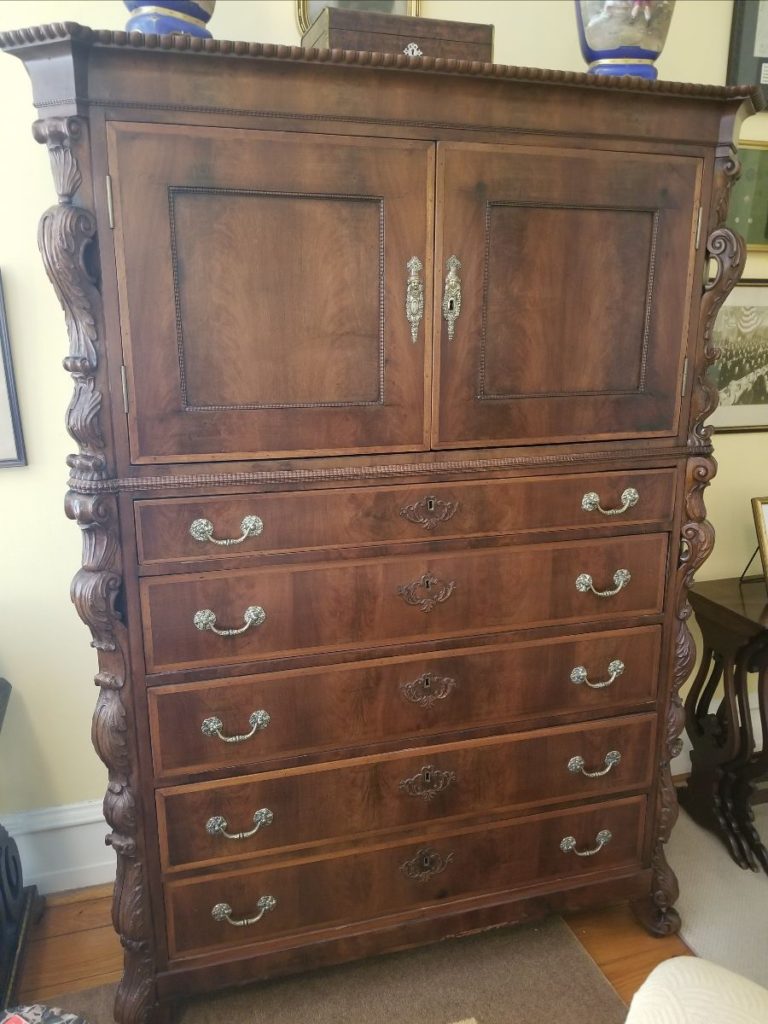 Bessie Morse Bellingrath was a collector of fine antiques during an era when Henry Francis DuPont was paying fabulous sums for fine American antiques for his own country estate, Winterthur in Delaware. On special tours of Winterthur today, docents point out a few fakes that fooled Mr. DuPont.
In July of 1936, a van filled with antiques purchased at New Orleans' Royal Antiques arrived with an unexpected addition. The piece was a five-drawer chest topped by two doors concealing a storage space, and a letter from a staff member at Royal Antiques explained:
 "This piece is without doubt by Mallard. It came from the home of Jefferson Davis in New Orleans. Now if you don't want the piece please leave it on the van as we have a customer in Beaumont, Texas who is anxious to buy it." The price was $300 (about $5,500 in 2020).
The first mistake was the provenance. Jefferson Davis never lived in New Orleans. Perhaps the writer was alluding to the home the former president of the Confederacy died within in 1889. It still stands in the Garden District.
Secondly, Prudent Mallard was not a furniture maker. Antiques dealers during much of the 20th century were under the mistaken impression that Prudent Mallard was actually carving furniture in his shop in New Orleans. History has since revealed that he was the ultimate retailer of fine furnishings and had excellent connections with the best furniture makers from New York to Paris. His customers were assured the most fashionable furnishings, and his employees handled custom upholstery as well as the porcelains to accompany them.
And, finally, the form does not exist. Careful examination by experts reveals that the piece is cobbled together from pieces of old furniture with a few things obviously added. The hardware, though handsome, is new and some of the veneer may have been new as well.
It is very doubtful that Mrs. Bellingrath ever discovered her mistake. More likely, she was able to appreciate this attractive and functional piece of furniture.
Curator's Corner, a feature about items in the Bellingrath Home collection, is written by Tom McGehee, Museum Director. McGehee also writes a regular column in Mobile Bay Magazine about Gulf Coast history. Click here to view videos about the Bellingrath Home.
We won! Thanks for voting!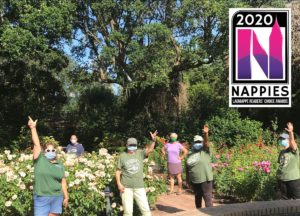 Bellingrath Gardens and Home is the proud winner of the "Best Place to Take Out-of-Towners" 2020 Nappie Award. We are so grateful to everyone who voted in this annual readers' choice contest. Thank you for your support! All of the Nappie Award winners will be announced in Lagniappe's August 5 issue.
Azalea Trail Maids in the garden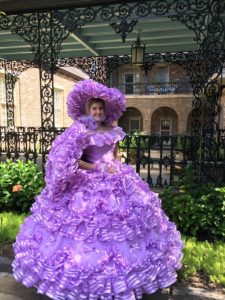 The Azalea Trail Maids will greet our guests on August 6 and on each Saturday in August from 9 to 11 a.m.
The appearances are dependent on the weather, so be sure to call ahead if the forecast is questionable! Click here to view a list of the Maids' scheduled appearances.
Join the Friends of Bellingrath
A Friends of Bellingrath membership gives the member unlimited admissions to the Gardens for one year! Members receive special mailings and monthly e-newsletters about everything that is growing and happening throughout the year at Bellingrath. Patron and Belle Camp members also receive unlimited admissions to the Bellingrath Home for one year. To assist us in our record-keeping, we are asking our Members to please bring their membership cards with them when they arrive. For information about joining the Friends of Bellingrath and the different membership levels, please click here. 
Hear the voice of Walter Bellingrath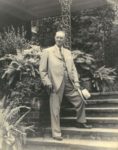 On March 12, 1953, Walter D. Bellingrath gave a speech in Montgomery, Ala., to commemorate the 50th anniversary of the city's Coca-Cola franchise. He and his brother, Will, purchased it in 1903. To hear his speech, click here. 
Coronavirus precautions update
We continue to follow recommended guidelines to ensure the health and safety of our guests and employees. Masks are required for anyone who enters the buildings. All employees will wear masks when inside the buildings and when interacting with the public. Guests may purchase masks in our Entrance Building and in the Gift Shop. Social distancing is reiterated and enforced. Bathrooms and high-touch surfaces are cleaned hourly. For details about our safety procedures, please click here.