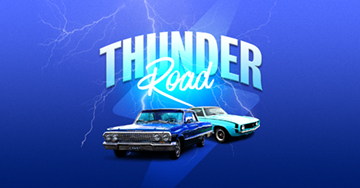 Classic car owners are invited to display their pre-1960 vehicles on Thunder Road in conjunction with Born to Hand Jive: A "Grease" Sing-Along, hosted by the Choral Society of Pensacola. It's one of twelve featured events during this year's Foo Foo Festival, a twelve-day celebration of creativity sponsored by Art, Culture, and Entertainment, Inc. The car show and sing-along are set for Thursday, November 10 at the Rex Theatre (18 N. Palafox Street in downtown Pensacola). The car show begins at 6 pm, the sing-along at 7 pm.
Organized in partnership with Panhandle Cruisers Car Club, the car show is intended to focus on 1950s automobiles, all makes and models, to reflect the era captured in the popular movie musical Grease, although any pre-1960s car is welcome. The movie stars John Travolta and Olivia Newton-John as seniors at Rydell High, and the story's climax is a drag race between leaders of rival gangs at a place they've dubbed "Thunder Road."
The block of Palafox Street in front of the Rex Theatre – between Garden and Chase Streets — will be closed for the show beginning at 5 PM. The show opens officially at 6 and will close at 10 PM. Security will be provided. There's no registration fee, and anyone who participates will receive a complimentary pair of tickets to the sing-along.
Anyone who'd like to show a car or who wants more information should message Rob Boothe on Facebook through Panhandle Cruisers Car Club or email Charlie Smoke (charlie@choralsocietyofpensacola.org) with their name, make and model of car, and their email address by Thursday, November 3.
For more information about Born to Hand Jive or to purchase tickets, visit the Choral Society website (www.choralsocietyofpensacola.org), its Facebook page, or Eventbrite.com.
The Choral Society of Pensacola is a nonprofit organization whose mission is to engage and enrich the community through a variety of dynamic choral experiences. The chorus is made up of community volunteers, under the direction of Peter Steenblik, and it presents four concerts annually, as well as a variety of other programs.
CSoP is funded in part by the State of Florida, Department of State, Division of Arts and Culture; the Florida Council on Arts and Culture; Art, Culture, and Entertainment, Inc.; Pensacola State College; University of West Florida; and area businesses, corporations, and individuals.