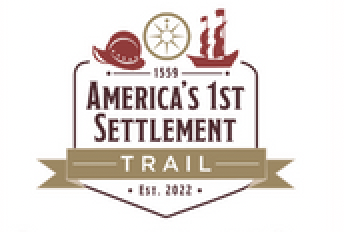 In honor of Pensacola, Fla.'s 462nd birthday this August, Visit Pensacola launched of the America's First Settlement Trail. Nicknamed the "A1S Trail," the purpose of the three-mile pedestrian trail is to celebrate and educate individuals on the rich history of the destination. Free and publicly accessible to destination visitors and the Pensacola community, the A1S Trail outlines the nation's history through a series of stops throughout downtown Pensacola and the Pensacola Historic District.
"After 13 months of planning, we are thrilled to officially launch the A1S Trail in Pensacola," said Michael Carro, Founder, A1S Foundation. "This project has been a labor of love between our partners at the University of West Florida Historic Trust, the City of Pensacola and Visit Pensacola, and the goal of the A1S Trail is provide our visitors to Pensacola and our local community a deeper look at our destination's rich history. We look forward to expanding the A1S Trail further in the future with connecting trails that will provide a more immersive look into America's First Settlement."
Established in 1559 on a Spanish expedition led by Tristán de Luna y Arellano, Pensacola, Fla. is America's first settlement, predating the Spanish settlement in St. Augustine, Fla. by six years and the English settlement in Jamestown, Va. by 48 years, making it the first multi-year European colonial settlement ever archaeologically identified in the U.S. Along the A1S Trail, visitors can enjoy 20 stops including Plaza Ferdinand VII, Seville Square, Intendencia Street and more, and over 70 points of interest like National Historic Landmarks, the Dorr House, Christ Church and Fort Gorge. Along the Trail, visitors can experience sites from as early as 1756 when the Spanish built Fort San Miguel in what is now downtown Pensacola.
While renowned for its sugar-white sandy beaches, Pensacola is The Way to Beach™ for history lovers who are looking to explore the nation's history in an immersive and unique way. To follow along with the A1S Trail, go to visitpensacola.com/americas-1st-settlement-trail/. To download a PDF of the Trail map, click here.