Irish Eyes are Smiling
Opened in 1996 in a scenic location overlooking Destin's famous blue-green waters in an area known as "Crab Island,"  this McGuire's Irish Pub won't disappoint.
The Destin McGuire's is the second location for the family-run operation founded by Molly and McGuire Martin in 1977 in nearby Pensacola, Fla.
Their son, Billy Martin, runs the Destin restaurant making sure it doesn't disappoint patrons familiar with the brand known for its burgers, steaks, 18-cent Senate bean soup, rollicking fun and welcoming wait staff.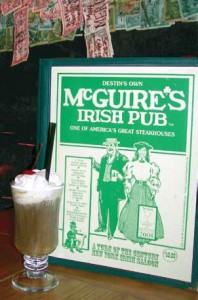 "It's basically the same. Same menu, same prices, etc.," said Martin who also has worked in the family's other restaurants, Flounders Ale House and Crabs We Got 'Em, on Pensacola Beach, Fla.
The restaurant features a sprawling gift shop, a destination in itself, and an on-site brewery. Tens of thousands of patron-autographed dollar bills are stapled to the walls, a tradition started in Pensacola.
The biggest difference between the two restaurants is Snowbirds take center stage in Destin in the winter months while Pensacola draws a more local and business travel and leisure crowd.
Some eight years ago Martin implemented weekday Snowbird specials in Destin.
"We couldn't survive in the winter without the Snowbirds," Martin bluntly said.
"We noticed that local restaurants weren't really catering to them. We started doing specials and today we couldn't be happier."
Daily Snowbird specials keep patrons returning for tasty treats such as Irish bread pudding, Irish Boxtys, bean soup and drink discounts on Irish ale and Irish coffee. Tuesdays are a popular day with a special Irish sing-along from 3-6 p.m. and a free appetizer buffet during happy hour.
Like the Pensacola restaurant, the Destin location serves as a regional draw.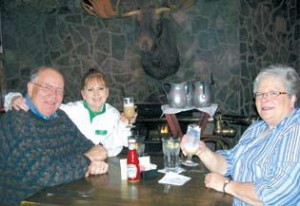 Cathy and John Gunther of Houlton, Wis., drove from their winter home in Panama City Beach, Fla., for a mid-day meal. Cathy, who is half Irish, enjoyed a corned beef sandwich plate then purchased several items in the gift shop for her three young grandchildren.
This St. Patrick's Day the restaurant will open at 10 a.m. with festivities set throughout the day into the wee hours. Irish musicians will entertain including the McGuire's Bagpipe Band. The restaurant will serve its famous Irish pub fare including Shepherd's Pie, corned beef and cabbage, fish and chips and a St. Paddy's Day favorite – home-brewed green beer.
What: McGuire's Irish Pub
Location: : 33 Hwy. 98, by the Destin bridge.
When: St. Patrick's Day – Doors open at 10 a.m. Festivities planned throughout the day. Irish musicians, McGuire's Bagpipe Band, "Green Beer" from the micro-brewery, sing-alongs and more.
What to Expect: Big crowds and lots of fun.
Details: 850-650-0000