Simply Delicious 
Originally posted March 2007
A search for a good, quality breakfast restaurant some 10 years ago led engineer Ron Green down a path he never imagined.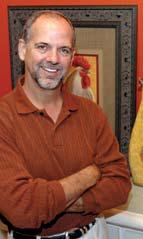 When Green couldn't find the California style restaurant experience he was used to in 1992 when he returned to his roots in Louisiana, he started looking into what it would take to open his own place.
He conducted research into five franchises, took his findings and combined the knowledge he had gained with his own gut instincts and opened his own restaurant, The Broken Egg Café, in Mandeville, La., in 1996.
Keen attention to detail in food quality, décor and service paid off for Green and his family. The restaurant was a success from the moment its doors opened.
Fond memories of childhood vacations in Destin, Fla., convinced Green and his family to open a second restaurant two years later named "Another Broken Egg Café."
Today, there are three Destin locations, including one in the heart of Destin off Hwy. 98, in the Village of Baytowne Wharf and most recently in the Linkside Conference Center complex at Sandestin. A fourth restaurant is just down the road in quaint Grayton Beach and a fifth opens later this spring in Panama City Beach.
The restaurant is open only for breakfast and lunch from 7 a.m. to 2 p.m. daily. But the menu goes beyond bacon and eggs and grilled cheese sandwiches. More than 140 menu items are available, including a variety of soups, sandwiches, omelets, smothered croissants and more.
"We use a variety of styles, including dishes that have a Southwest flavor, Italian, Creole and Southern cooking to name a few," Green said.
Décor and atmosphere are the hallmarks of each Another Broken Egg café, but the experience doesn't stop there.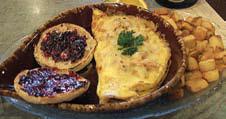 "Our presentation is high end," Green said. "It's all about the experience."
On my second visit, I asked what dish the restaurant is known for and the waitress and manager both responded, "The Floridian omelet." It is one of a dozen varieties offered.
This omelet features cream cheese, crabmeat, garlic and green onion with melted jack cheese.
It didn't disappoint.
Coupled with fresh coffee served in one of the restaurant's signature coffee mugs, the omelet was teamed with diced potatoes and an English muffin.
On another visit, I chose a lunch item, a sandwich called "Nellie's Delight" which featured ham, baked bacon, melted Swiss cheese, lettuce and tomato on grilled sourdough. Yum!
The Linkside restaurant features the most picturesque location, in my opinion, with an open floor plan and large windows overlooking a resort swimming pool and the water.
If You Go
What: To find a location close to you visit us online at  www.anotherbrokenegg.com.