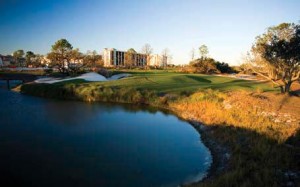 Originally posted January 2007
Robert Warner has played golf all over the United States, but recently visited Lost Key Golf Club in the Florida Panhandle near the Alabama border.
The course had just reopened in July 2006 after almost two years of redesign and repair after Hurricane Ivan flooded the course with 3 feet of saltwater in 2004.
Warner, who lives in Milton, Fla., about an hour's drive away, was floored by what has been done to the golf course.
"It's absolutely beautiful what they've done now," he said. "The greens on a scale from 1 to 10, I'd give them an 11. They are very smooth."
Lost Key Golf Club, a par-71 layout by the Arnold Palmer Design Group, is a gem that will be discovered each winter by Snowbirds who like to play golf.
In addition to the floodwaters, the course lost more than 8,000 trees. The Arnold Palmer Design Group came in and reshaped the course. The grass was changed to a premiere Sea Dwarf Paspalum that has no grain. It's stays green longer, comes back quicker and requires no overseeding.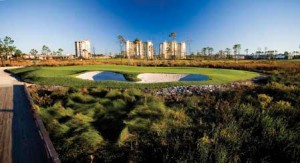 "The course was reshaped enough so that it's more receptive to shots coming in to the green," said Michael Howard, Lost Key's head professional. "The tee shot area is a little wider and rounded so shots don't bounce into the rough as badly.
We're in good shape now."
The rough is no longer unforgiving. In the past, if a shot bounced 3 feet off the green, it was either lost or required a miracle flop shot.
"You shouldn't have to walk more than 15 yards to find a sprinkler head that gives you the distance to the pin, front, middle and back," Howard said. "You have to place your shots. The greens are huge. If you attack every pin out here, you can pay the price pretty quick. If you try to hit driver on every one, you're going to pay the price."
It's a course that rewards the golfer for good shots. It's a course that calls for a golfer to hit different types of shots to get it close.
That makes it a challenging course. And a fun course.
"We offer such a variety out here," Howard said. "We're the only one on a barrier island that gives you an Audubon International Silver Signature Sanctuary with the wildlife and the swamps. We have that going for us."
The new clubhouse sparkles with a restaurant that is open every day for lunch, a fully stocked pro shop and men's and women's lockerrooms.
For golfers like Warner, Lost Key Golf Club offers a little of everything – challenge, fun a perfect test of golf.
"The course is laid out just perfect," Warner said. "I had a lot of fun out there. I will definitely come back again."
Details: 888-2-LOSTKEY or www.lostkey.com.
FROM GULF SHORES
Take Highway 59 south to Highway 182 East. After the Florida/Alabama state line, it is approximately 6-8 miles. Follow Highway 182 (which turns into Perdido Key Drive) until just before going over the Intracoastal Waterway bridge (Theo Baars bridge).
FROM INTERSTATE 10 (PENSACOLA)
From Interstate 10, take Exit 2 which is Pine Forest Road (also State Road 297) heading South. Take a right at Blue Angel Parkway and follow that road approximately 12 miles. Take a right oto State Road 292 South going to Perdido Key. Cross over the Intracoastal Waterway (Theo Baars Bridge) and take the first left (Gongora).