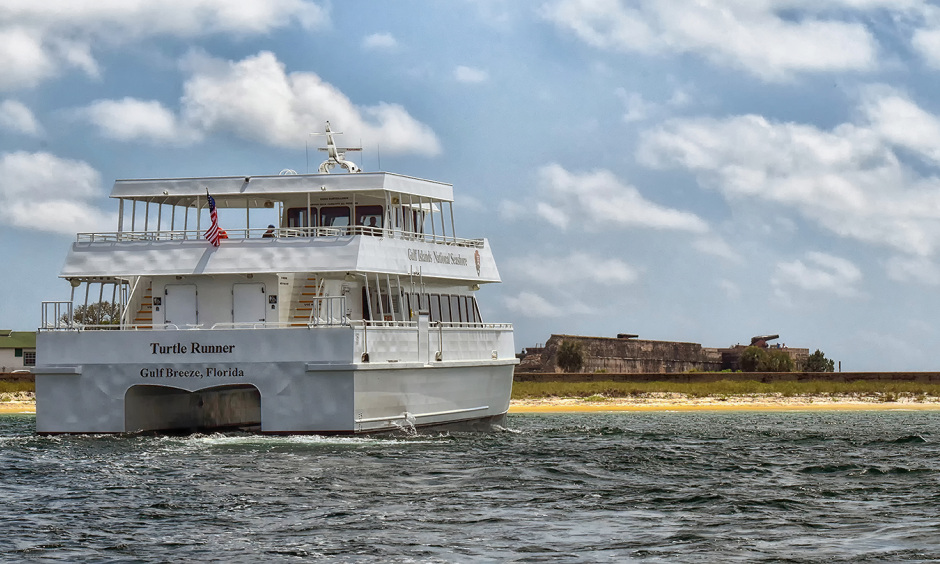 Kickoff Event March 4 at 11 a.m.
The National Park Service will resume Pensacola Bay City Ferry service to the Fort Pickens Area beginning March 4.
Join Park Rangers and Ferry Captains to celebrate the beginning of the 2023 season on March 4 at Fort Pickens. A press conference with the Gulf Islands National Seashore Superintendent will take place at 11. a.m. at the Fort Pickens ferry pier. Media should RSVP by February 27 for fee waiver into the park. Please send RSVPs to Stephenie_wade@nps.gov.
"We are excited to have the ferries return to Gulf Islands National Seashore and the Fort Pickens area after a two year absence," said Gulf Islands National Seashore Superintendent, Darrell Echols. "The ferries will provide a unique opportunity for visitors to experience America's largest national seashore and its cultural and natural resources. The ferries are a great way to see parts of the seashore that are not often seen by visitors."
The two 150-passenger catamaran-style ferryboats owned by the National Park Service and operated by City Experiences by Hornblower began service to Gulf Islands National Seashore on April 20, 2019. A year later in 2020, Hurricane Sally devastated the Gulf Coast, resulting in a pause in service.
Starting in March, the ferry will begin transporting passengers from downtown Pensacola to Pensacola Beach (Quietwater Pier) and the Fort Pickens Area, every Saturday. On Sundays, the ferry will offer a new Fort Pickens Historical Tour from downtown Pensacola to the Fort Pickens Area. A tram will be available to transport visitors from Fort Pickens to the beach at Battery Langdon and the Fort Pickens Campground. An exclusive Sunset Cruise for Fort Pickens campers will also be available on Sundays.
"A lot has changed in the past two years," said Joe Asebedo, General Manager of Pensacola Bay City Ferry. "We have rebranded and added new services like the Blue Angels Viewing Cruises and Beachside Sunset Cruises. This year we are excited to offer a Fort Pickens Historical Tour to bring added interest to the Fort and Gulf Island National Seashore. We are also adding a Sunset Cruise exclusive to Fort Pickens campers. We have a lot to look forward to in 2023."
The National Park Service cares for special places saved by the American people so that all may experience our heritage.
Patrons can purchase ferry tickets online at www.pensacolabaycityferry.com or in person at the downtown Pensacola location. This year's ferry rates are $30 for adults, $24 for seniors, military, college students, and persons with disabilities, $20 for youths aged 3-15, and free for 2 and under.

About Gulf Islands National Seashore: Created in 1971, the national seashore stretches 160 miles along the northern coast of the Gulf of Mexico in Florida and Mississippi, and includes barrier islands, maritime forests, historic forts, bayous, and marine habitat. Visit us at www.nps.gov/guis, on Facebook, Twitter, and Instagram.
About the National Park Service: More than 20,000 National Park Service employees care for America's 419 national parks and work with communities across the nation to help preserve local history and create close-to-home recreational opportunities.