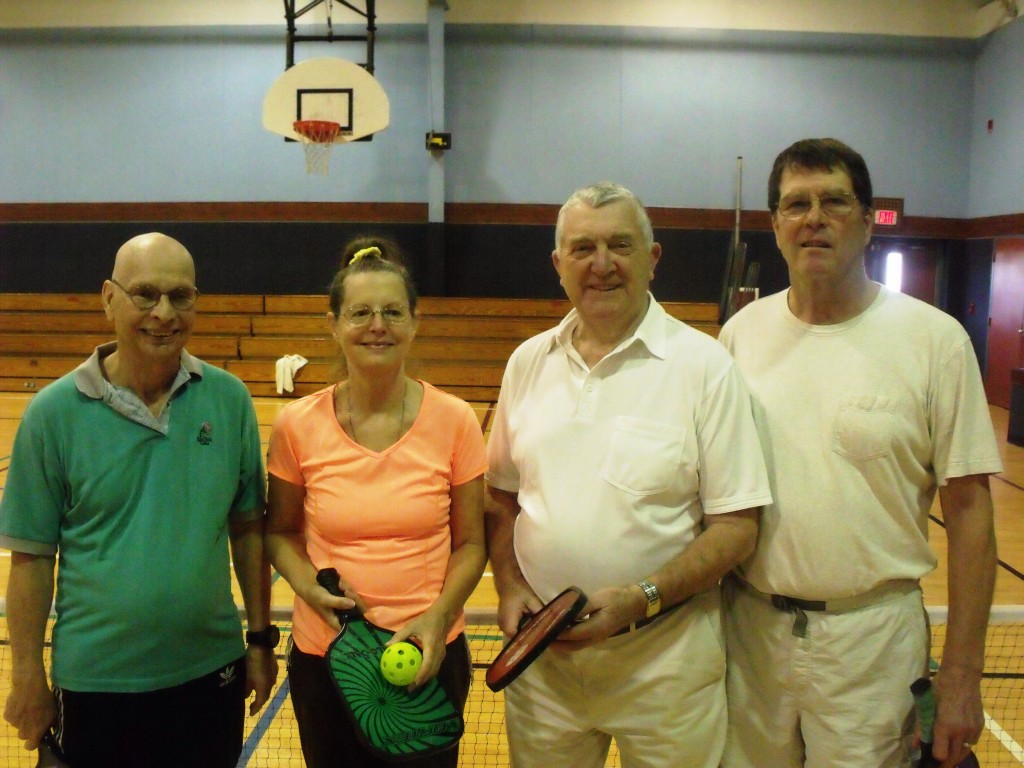 ABOUT PICKLEBALL Pickleball is played on the same sized court as doubles for badminton with a 34-inch net and is one of the fastest-growing games in the world. Played with a paddle and a perforated plastic baseball that is similar to a whiffle ball, the game is a combination of tennis and ping pong. Phil Holdsworth recently convinced staff at the Destin Community Center to start a league and it quickly grew. There are two days of play each week during Snowbird season on Mondays and Wednesdays from Noon to 2 p.m. with 30 paddles to loan out for visitors. Destin Community Center is located at101 Stahlman Avenue Destin, Fla. Details: 850-654-5184 Phil Holdsworth
Carol and Phil Holdsworth and a collection of friends and neighbors from "back home" near Ontario, Canada have formed their own little Snowbird Club in Miramar Beach, Fla.
A group of four couples – all Canadians – stay at the Beach House Condos in South Walton County on the Florida panhandle where the winters are a bit cooler than South Florida but the pace is quieter.
"We first went to Clearwater but it was just too busy," Phil said. "Someone suggested we try up here and we liked it straight away."
The Holdsworths and friends, Rita and Harvey Brown and Twyla and Malcolm Brandeth and another couple gather for evening cocktails and often meet for dinner and other activities. The condo management host a weekly Friday evening get-together the couples all enjoy.
All agree that the area offers value and quality – and an opportunity to maintain good health since the weather is usually moderate.
Phil formed a new Pickleball League last year with the help of staff at the Destin Community Center and the sport quickly caught on with Snowbirds and locals alike.
Phil also plays in a senior softball league with other Snowbirds who compete with teams from across the region. The other couples also play tennis and golf and all love to walk the beach.
"We do a lot more here than we do at home," Phil said. "There's something to do every day. At home (in winter) it is dark and cold."
One of the favorite activities is the annual Mardi Gras celebrations staged along the coast.
Phil saves the Mardi Gras beads he collects and uses them to cheer up the children at the ER where he volunteers back in Canada.
He said he likes to see them smile.