BEAU RIVAGE BMW SUMMER SERIES GIVEAWAY
Keep earning drawing entries until Saturday, August 31, for a chance to win $1,000 in FREEPLAY/TABLEPLAY or a BMW. Guests earn one drawing entry for every 100 Slot Points/Table Game equivalent during the promotional period, earn 2X the drawing entries Monday-Wednesday of the promotional period. The next entries will be drawn on Saturday, July 27, and Saturday, August 31. Drawing times are 6 p.m., 8 p.m. and 10 p.m., on the casino floor. Ten winners will be drawn each time some winning $1,000 in FREEPLAY/TABLEPLAY and one BMW will be given away.
Participants can activate entries at designated Rewards Kiosk each promotional day between 10 a.m. and 9:50 p.m. need only activate once for all three drawings.
tg-swing-suite-logo-vertical-black
BEAU RIVAGE & TOPGOLF TO BRING VIRTUAL GOLF TO COASTAL MISSISSIPPI
Coastal Mississippi residents and visitors seeking a new entertainment experience, Beau Rivage Resort & Casino is pleased to announce the opening of the region's first Topgolf Swing Suite. A one-of-a kind virtual golf experience that's fun for all ages and skill levels, Topgolf Swing Suite is scheduled to open at MGM Resorts International's beachfront resort in early September.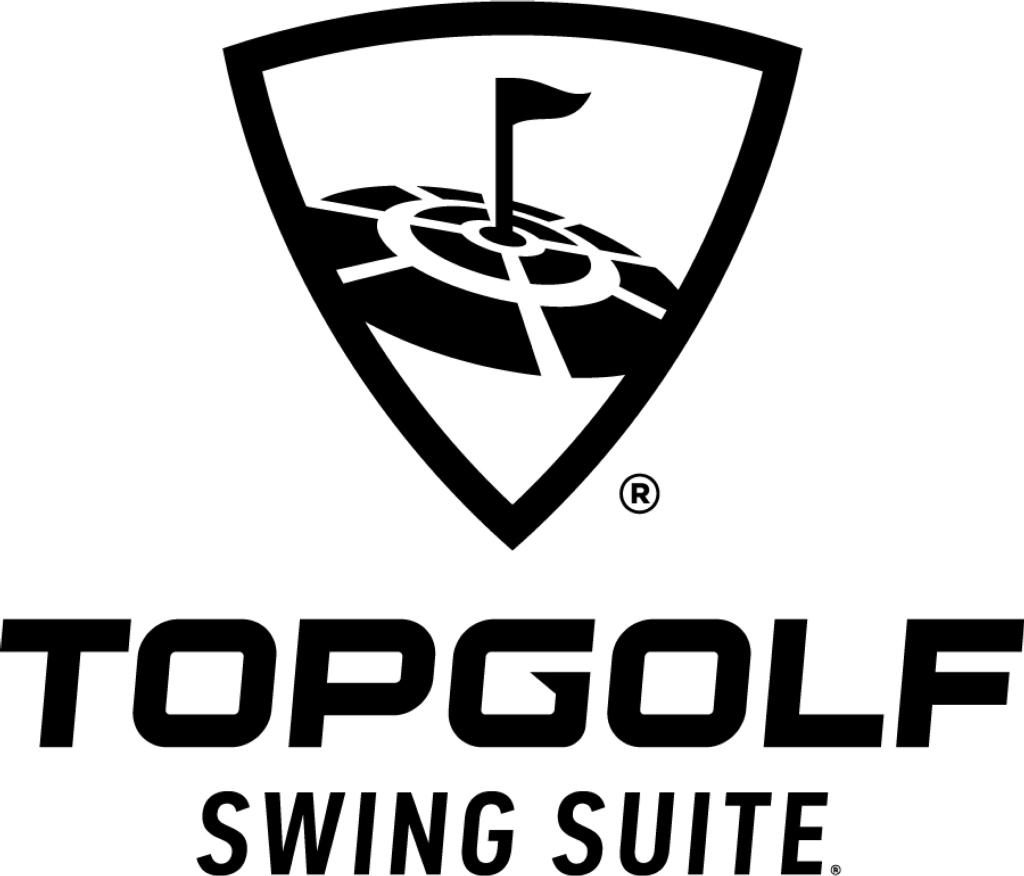 Located along Beau Rivage's retail promenade, the 3,700-square-foot immersive lounge offers guests another amenity and entertainment option to enjoy in a luxurious yet comfortable smoke-free environment. Topgolf Swing Suite is a next-gen simulator lounge that brings the excitement, fun, and new way to play to Coastal Mississippi. The Topgolf Swing Suite will feature three simulator bays and a variety of virtual games – including the popular Topgolf target game, Zombie Dodgeball, Hockey Shots, Baseball Pitching, Quarterback Challenge, Carnival Classic and more – paired with comfortable lounge seating,10 HDTVs, two sports betting kiosks and food and beverage service from the adjacent Black Clover Lounge.
"Since Topgolf opened its first Swing Suite in 2017, it has been an immensely popular attraction, and we are excited to add another dimension to Beau Rivage's entertainment offerings and world-class amenities," said Beau Rivage Vice President of Marketing Brandon Dardeau. "Topgolf has done an amazing job reimagining how to create unique, fun-filled experiences and we look forward to adding it to our lineup."
Simulator bays allow guests to play in groups of up to eight players on the Full Swing golf simulator, the same simulator used by PGA TOUR pros Tiger Woods, Jordan Spieth and Jason Day for off-course practice.
Beau Rivage joins sister MGM resorts Gold Strike, MGM Grand Detroit and MGM Springfield with the Topgolf Swing Suite amenity, while MGM Grand is home to the flagship Topgolf in Las Vegas.
UP, UP & AWAY $50,000 SLOT TOURNAMENT FRIDAY, AUGUST 30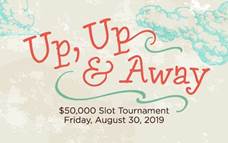 All Beau Rivage guests are invited to enter in the Up, Up & Away $50,000 slot tournament Friday, August 30 at the smoke free slots. Guests who earn 300 slot points on the day of the event to be eligible. Registration is from 12 p.m. – 7 p.m. at any rewards kiosk. Once registered the kiosk will print out a receipt with guest's session time on it. Bring receipt to tournament area top receive gift and play one three minute session. No late registration. Top 200 will be awarded. All prizes are valid for 14 days and will be loaded onto account by end of day Friday.
THE ULTIMATE SPORTS BETTING EXPERIENCE: TAP BOOK, BAR & BISTREAUX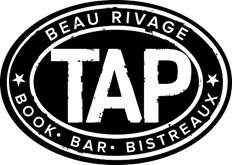 Beau Rivage, MGM Resort International's AAA Four Diamond resort in Coastal Mississippi, announces the opening of TAP Book, Bar & Bistreaux, the Southeast's premier sports betting, entertainment and dining destination.
Set among sturdy brick and ironwork, exposed beams and welcoming earth tones, TAP celebrates modern technology with more than 100 HD screens including a massive 24-foot wide by 14-foot tall video wall. Its 70 screens can operate individually, in various combinations or as one huge display, and are flanked by two additional video walls for an immersive high-impact audio and visual experience throughout the 7,000-square-foot space. Fourteen carrels with individual HD touch-enabled monitors allow guests to watch sports with interactive controls.
Inspired by its coastal location, TAP's nautically-influenced interior features the comfort, detail and craftsmanship of a luxury yacht. Walnut tabletops, beautiful quartz bar tops, rustic end grain cut wood flooring, textured wallcoverings and wood and stitched leather panels offer a clean and tailored warmth to the space. Sports fans can relax on plush sofas and lounge chairs, take a seat at two different bars, three video poker counters, or sit and dine to watch their favorite sporting event. Two VIP lounges offer even more exclusive experiences. TAP's main center bar has video poker machines and comfortable flex back seating. For convenience, guests will find free Wi-Fi and power charging at the bars, cocktail tables and arm chairs within the smoke-free venue.
True to its name, each of TAP's bar areas serve up 15 beers on tap, including seasonal and regional favorites. More than 30 handcrafted craft bottled beer selections can also be found along with contemporary cocktails and wines by the glass and bottle. TAP's refreshing line of signature adult milkshakes – including the Strawberry Short Shake, Mexican Shake, Mudslide Shake and Bourbon Shake – offer guests deliciously cool indulgences.
TAP's collection of elevated comfort food and American sports bar classics feature signature dishes such as the Tap Burger; Big Wedge Salad, Queso Fundido, Bavarian Pretzel, Loaded Nachos and Short Rib Chili. Beau Rivage Executive Chef Kristian Wade's award-winning Landmass Burger voted "Best of the Fest" at the 2019 Atlanta Food & Wine Festival, is also featured seasonally.
TAP Hours of Operation:
Book: Mon.-Thur. 9 a.m.-10 p.m., Fri. and Sat. 9 a.m.-12 a.m., Sun. 9 a.m.-10 p.m.
Bar: Open 24/7
Bistreaux: Mon., Thur., Fri., 5 p.m.-9 p.m.; Sat. and Sun., 11 a.m.–9 p.m.
For more information and high resolution photos visit Beau Rivage Digital Newsroom.
LUNARO CIRQUE STYLE EXTRAVAGANZA IN THEATRES UNTIL AUGUST 7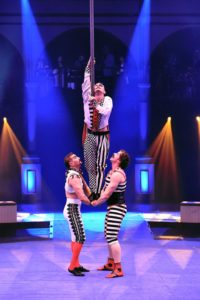 Beau Rivage's summer family entertainment tradition, LUNARO will be in Beau Rivage Theatre until August 7. Audiences will enjoy action and adventure as they marvel at heroic feats and breathtaking acts from the finest aerial, acrobatic, character and discipline talents in the world.
"DreamCast Entertainment has a proud history of producing top quality cirque-style shows exclusively for MGM Resorts and Beau Rivage," said Misha Matorin, DreamCast president. "Audiences of all ages will love this summer's LUNARO, an 80-minute high-energy production that combines breathtaking artistry, comedy and heart-stopping action." A veteran aerialist himself, Matorin grew up in the Moscow Circus, where his father was director and his mother was a trapeze artist. Guest creator of Cirque du Soleil's Mystere, Matorin's creativity and choreography has been noted in dozens of productions from Cirque du Soleil's Alegria Japan to last year's Circovia.
LUNARO will take center stage in the Beau Rivage Theatre for its limited eight-week engagement. Show times are 7 p.m. Monday-Thursday; 3 p.m. and 7 p.m. on Saturday and Sunday; and no performances on Friday. Tickets are $12.95, $16.95 and $29.95 plus tax and facility fees. A family four pack of tickets is available for $40 mid-week, and active duty and retired military can enjoy four tickets for $30 every Monday with valid military ID. Call 888.566.7469 or visit www.beaurivage.com for tickets.
Ticket holders can enjoy LUNARO food & beverage, retail and arcade specials throughout the summer. Kids 12 and under eat free at The Buffet with the purchase of an adult buffet. Guests can receive 15% off the total bill Sunday through Thursday at BR Prime, Jia, Stalla and Terrace Cafe, as well as 15% off regular-priced merchandise in The Promenade Shops, and a $5 arcade credit for every $25 spent on Beau Rivage Theatre concessions.
Beau Rivage offers families even more fun throughout the run of the show with complimentary face painting and balloon art every Saturday from 1-7 p.m. in the resort's atrium.
LUNARO room packages start at $129 and include deluxe accommodations and two tickets to the show. For reservations or information, call 888.567.6667 or visit www.beaurivage.com.
COMMUNITY EVENTS
12th ANNUAL MOONLIGHT & MAGNOLIAS FUNDRAISER
Beau Rivage Resort & Casino will host the 12th annual Moonlight & Magnolias fundraiser for the American Red Cross Thursday, August 8, 2019. Festivities will include a celebrity dance competition, silent auction and the presentation of the American Red Cross Humanitarian Award. The VIP reception begins at 6 p.m. and general admission doors open at 6:30 p.m. Tickets start at $100. A limited number of reserved tables available. For more information about the gala and tickets please call (228) 896-4511 or email john.mcfarland2@redcross.org.
LOCALS SPECIALS & OFFERS
SPA SPECIALS
Beau Rivage's Spa and Salon invites locals to enjoy its world-class services and facilities. Locals can enjoy a 15% discount on spa and salon services Monday through Thursday. Call 228.386.7472 for spa reservations. *Discount subject to change based on peak seasons and holiday specials.
SHOPPING SPECIALS
Locals can receive a 20% discount on all retail purchases every Tuesday. Beau Rivage's shopping promenade features distinct boutiques that offer the latest designer trends and a variety of treasures, from accessories to unusual specialty items. Excludes The Jewelry Box. Cannot be combined with any other offer.
GOLF SPECIALS
Fallen Oak, Beau Rivage's exclusive Tom Fazio-designed golf course, will offer special pricing to locals from Sunday – Thursday. Consistently ranked among the top courses in the country, Fallen Oak will open its gates to local M life members and offer $99 greens fees for the first two golfers and $149 greens fees for any additional golfers, up to eight golfers total. Advance tee times are required. The offer excludes blackout dates. Call 877.805.4657 to book tee times. Person reserving the tee time must be an M life Rewards member.
**Fallen Oak will be closed on the following dates in August: 6th & 12th – 29th.
These offers are limited to Mississippi Coast residents from Harrison, Hancock, Jackson, George, Stone and Pearl River Counties. Guests must present a valid Mississippi ID to redeem. Express Comps not valid with this offer. Guests can also visit beaurivage.com/locals for more information.
POOL
All hotel guests of Beau Rivage Resort & Casino are invited to indulge in opulent luxury at the Romanesque pool situated on the Gulf. Don't forget to book a pool pack:
POOL PACKS
VIP Pool Edge Chair Packs – include two chairs and an umbrella on the edge of the pool. Monday – Thursday prices are $50, Friday – Sunday $75, holiday/peak days $100.
VIP Pool Chair Packs include two chairs and an umbrella on the outskirts of the pool. Monday – Thursday prices are $40, Friday – Sunday $60, holiday/peak days $80.
Large parties and the poolside gazebo is more accommodating, prices are Monday – Thursday $125, Friday – Sunday $150 and holiday/peak days $200.
Ultimate lounging luxury book one of the cabanas Monday – Thursday $225, Friday – Sunday $275 and holiday/peak days $350.
For more information, and to book please dial 228.386.7111.
ARCADE
Beau Rivage Resort & Casino is now offering guests a more streamlined process for the arcade by introducing reloadable arcade cards. Purchase a $1 card at the arcade or a kiosk with credit or cash. Keep the card and reload it every visit to the arcade. Card never expires. See arcade attendant for more information.
ENTERTAINMENT
Gift cards are now accepted at the Ticket Office.
HEADLINE ENTERTAINMENT
June 8 – August 7, 2019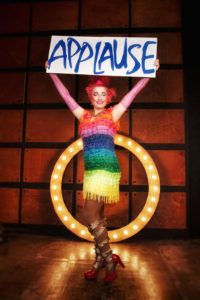 LUNARO
Showtime: Monday-Thursday 7 p.m., Saturday & Sunday 3 p.m. & 7 p.m. Dark on Fridays
Ticket Prices: $12.95, $16.95, $29.95, Four for $40, Four for $30 with Military ID (+ tax & facility fee)
Venue: Beau Rivage Theatre
August 2, 2019
RON WHITE
Showtime: 7 p.m. & 10 p.m.
Ticket Prices: $39.95, $49.95, $59.95 & $79.95
Venue: Beau Rivage Theatre
August 9, 2019
LIL DUVAL
Showtime: 8:00 p.m.
Ticket Prices: $19.95, $24.95, $34.95 & $44.95
Venue: Beau Rivage Theatre
August 16, 2019
RUSSELL PETERS
Showtime: 8:00 p.m.
Ticket Prices: $24.95, $29.95, $39.95 & $59.95
Venue: Beau Rivage Theatre
August 23, 2019
SCOTTY MCCREERY
Showtime: 8:00 p.m.
Ticket Prices: $24.95, $29.95, $39.95 & $59.95
Venue: Beau Rivage Theatre
August 31, 2019
THEO VON
Showtime: 8:00 p.m.
Ticket Prices: $19.95, $29.95, $39.95 & $59.95
Venue: Beau Rivage Theatre
September 6 – 8, 2019
BALLROOM WITH A TWIST
Showtime: Fri. – 7 p.m. , Sat. 3 p.m. & 7 p.m., Sun. – 3 p.m.
Ticket Prices: $19.95, $24.95, $29.95, & $34.95
Venue: Beau Rivage Theatre
September 13, 2019
MICHAEL BOLTON
Showtime: 8:00 p.m.
Ticket Prices: $54.95, $64.95, $74.95, & $94.95
Venue: Beau Rivage Theatre
September 20, 2019
DAVID FEHERTY
Showtime: 7:30 p.m.
Ticket Prices: $39.95, $49.95, $59.95 & $79.95
Venue: Beau Rivage Theatre
September 27 – 28, 2019
JOHNNY MATHIS
Showtime: 8:00 p.m.
Ticket Prices: $59.95, $69.95, $79.95, & $99.95
Venue: Beau Rivage Theatre
BARS & NIGHTLIFE
EIGHT75 HIGHLIGHTS LOCAL BAND ENTERTAINMENT
Enjoy live music seven nights a week at EIGHT75.
Singing sensation Dian Diaz performs every Wednesday-Thursday from 8 p.m. – 1 a.m. and Friday and Saturday from 9 p.m. – 2 a.m.
Triggerproof takes the stage every Sunday – Tuesday 8 p.m. – 1 a.m.
Every Friday Anderson Domingues will be in EIGHT75 from 3:20 p.m. – 8 p.m.
Hotel guests can catch DJ Hyphee at the pool Aug. 31 – Sept. 1 from 1 p.m. – 6 p.m.
BREEZE BAR
Anderson Domingues – Every Saturday 7 p.m. – Midnight
HOUSE SPECIALTIES
Leblon Melon Caipirinha – Cachaca Rum, Midori, Limes, Melon Balls, Sugar, Splash of Soda
The Crush – Stoli Bluberry Vodka, Monin Blackberry Syrup, Fresh Muddled Blueberries, Raspberries, Blackberries
Espolon Diablo Margarita – Pepper-infused Margarita with Red Cherry Peppers
Pearl of the Beau – Pearl Cucumber Vodka, Coconut Water, Muddled Cucumbers
Toasted Coconut Margarita – Malibu Red, Amaretto Disaronno, Lime Juice, Coconut Water
Blood Orange Old Fashion – Russell's Reserve 10 year, Orange Bitters, Blood Orange Syrup, Brown Sugar, Splash of Soda
Aperol Spritzer – Aperol, Prosecco, Club Soda, Orange Peel
GOURMET APPS AVAILABLE IN EIGHT75
Guests can now enjoy gourmet appetizers at the bar and choose between 35 local brews from Mississippi and Louisiana. Highlights include:
Cheeseburger – Two Prime Beef Patties, American Cheese & BR Sauce ……$16
Pizzas – San Marzano Tomato Sauce & Shredded Mozzarella Cheese Choose from Crispy Pepperoni, Traditional Cheese or Sausage & Mushroom……$15
Queso Dip – Crispy Corn Tortillas and Pico de Gallo……$7
Hummus – Classic Hummus served with Warm Pita Bread….$8
Classic Buffalo Style Wings – Crispy Wings tossed in Buffalo Sauce with Celery & Carrots ……$13
Blackened Chicken Sandwich – Lettuce, Tomato & Avocado with Spicy Mayonnaise on Brioche…..$15
Biloxi Cheese Steak – Shaved Sirloin Steak, Caramelized Onions, Mushrooms, Jalapenos & American Cheese on French Loaf……$17
Key Lime Pie – Key Lime Pie served with a Fresh Mango Puree……$9
DINING
THE BUFFET –  GLOBAL CUISINE AT THE BUFFET
The Global Cuisine series continues in August with France. New items include: coq au vin (chicken casserole cooked in red wine), ratatouille (stewed vegetable dish), French style mushrooms and moules marinieres (cooked mussels and onions in a white wine marinade).
*Served during dinner hours
THEME NIGHTS IN THE BUFFET:
Tuesday Night- Taco Tuesday's with Taco Bar on the South Salad bar. Soft and Hard Tacos, Ground Beef Taco meat, Fajita style Chicken, Diced Tomatoes, Shredded Lettuce, Shredded Cheddar Cheese, Sour Cream, and Cholula hot sauce.
Wednesday Night- BBQ Extravaganza, BBQ Chicken, BBQ pulled pork, Smoked Beef Brisket, BBQ Baked Beans, Smoked Sausage, Smoked Turkey legs. Served with House Made Loaded Baked Potato Salad, Cowboy Coleslaw, Cucumber and Tomato Salad, Grilled Vegetables and sliced Locally Grown Watermelon.
Thursday Night- A chance to create your own burger with selection of toppings and dressings Choices of Cheese from American to Gruyere. Sautéed Mushrooms, Caramelized Onions, Chow and much more.
COME IN FOR SPECIALTY SEAFOOD AND FRESH CRAB EXTRAVAGANZA
Saturday nights are for seafood lovers. For $29.99, guests can enjoy shrimp cakes, fried shrimp, stuffed crabs, fried calamari, seafood etouffee, white rice, jambalaya, boiled shrimp and fresh crab plus more. Hours are 3:30 p.m. – 10 p.m.
BEAU RIVAGE BUFFET OFFERS SPECIALS
The Beau Rivage Buffet is the place to be for breakfast, lunch and dinner. Breakfast – Monday – Thursday – $12.99, 7:30 a.m. – 11 a.m.; Lunch – Monday-Thursday – $15.99; Dinner – Sunday-Thursday – $22.99; Friday $26.99, Saturday $29.99. Enhance your dinner experience at The Buffet with an all-inclusive beer or wine selection for only $5, only during dinner hours.
Monday – Military 25% off breakfast and lunch
Wednesday – Seniors 25% off breakfast or lunch
Friday – Market Buffet 4:00 p.m. to 10:00 p.m. ($26.99)
Saturday – Seafood Extravaganza 3:30 p.m. to 10:00 p.m. ($29.99)
Sunday – Champagne Brunch 8:00 a.m. to 2:00 p.m. ($23.99)
*Saturday –Breakfast menu with classic breakfast offerings 8 a.m. to 12 p.m. ($15.99)
"MILITARY MONDAY" IN BEAU RIVAGE BUFFET – Beau Rivage appreciates our military community and shows its appreciation by offering 25% off breakfast and lunch.
SENIORS AGE 50+ RECEIVE 25 PERCENT OFF ON WEDNESDAYS – Wednesday's are for seniors at the Beau Rivage Buffet. Seniors can bring their identification to receive 25% off a breakfast or lunch. Seniors age 50+ receive the discount from 7:30 a.m.-2:00 p.m.
BUFFET TO-GO OPTION! – Enjoy the Buffet at Beau Rivage when you are on the go. Choose from the entire Buffet selection during breakfast, lunch or dinner. $10.99 until 11 a.m. and $14.99 11 a.m. and after. To-go meals must fit in to-go containers. Bowls and small containers are available for soups and dessert.
STALLA
Stalla – which is Italian for "barn"– is a warm and comforting atmosphere, with a rustic wood bar and curved booths set beneath a ceiling of reclaimed barn timber, straight from Italy. Setting the stage for the meal to come, tables feature a large bottle of olive oil surrounded by the freshest bread possible. The venue's design is as inviting to the senses as the food. The open kitchen design allows for a visual showcase from the culinary talents of the chef and cooks. Diners can savor the aromas and flavors of mouthwatering Italian dishes such as the Handmade Seasonal Ravioli, Fra Diavolo made with Gulf Shrimp, Calabrese Peppers & Spicy Tomato Sauce and Sea Scallops served over a Forest Mushroom Risotto to name a few. Stalla is open for dinner Monday, Tuesday and Sunday 5-10 p.m.; Friday and Saturday 5-10:30 p.m.
BR PRIME
The award-winning BR Prime features a variety of drinks on its cocktail menu including:
Bourbon Custer – Maker's Mark, Maraschino Liqueur, Cointreau, garnished with Lemon, Angostura Bitters and an Edible Flower
BR Old Fashioned – Redemption Rye Whiskey, Cherry Heering Liqueur, Turbinado Syrup, Angostura Bitters, garnished with an Orange Peel and Redemption Rye Infused Luxardo Cherry
Elyx Mule – Absolut Elyx Vodka, Lime Juice, Ginger Syrup, Regan's Orange Bitters, a splash of Soda Water, garnished with Rosemary Sprig and Raspberries
Paloma Nuevo – Espolon Tequila, Aperol Liqueur, St. Germain Elderflower Liqueur, Lime Juice, Izze Sparkling Grapefruit garnished with a branded BR Prime logo Grapefruit skin
Poydras St. Sazerac – Sazerac Rye Whiskey, Herbsaint Liqueur, Sugar, Peychaud's Bitters garnished with a Lemon Twist
Enjoy the showmanship and masterful presentation of a nitro-martini, or choose from hundreds of wines, all hand-selected by our sommelier. Menu items include the best in fine seafood and vegetables, warm and fresh breads, and hand-selected steaks and chops magnificently aged in-house. BR Prime is open Tuesday – Saturday 5:30 p.m. – 10 p.m.
JIA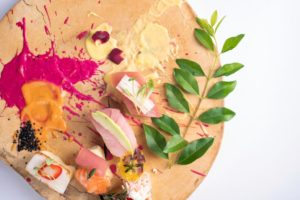 Jia's menu features a Latin-Asian fusion concept. Long-known for its exquisite Pan-Asian cuisine, Jia and MGM Resorts International take diners on a new adventure for the appetite incorporating new flavors and textures to its AAA Four-Diamond menu.
Jia, Japanese for "beautiful," is known for its authentic sushi, teppanyaki and pan-Asian cuisine created from simple, quality ingredients within three distinct dining experiences – sushi bar, teppanyaki-style or a la carte dining.
The six Nikkei entrees incorporate Peruvian staples such as quinoa, potatoes and yucca take the place of rice, forming a vastly different spin on Japanese fare. Causa, a Peruvian mashed potato terrine, is the basis for five of Jia's sushi rolls. A causa base, with crab stick, a scallop, black quinoa, jalapeno, cilantro and red tobico built upon it creates the Spicy Scallop Causa, while the Yellowtail and Avocado Causa starts with the same base but adds yellowtail, avocado, jalapeno, green leche de tigre (tiger's milk), aji amarillo leche de tigre and queso fresco for a colorful, enticing fusion. The Nikkei translates into English as "beautiful love child," and it is just that, using Latin American favorites to take Asian fusion beyond sushi, noodles and teppanyaki.
Jia is open Wednesday and Thursday, 5-10 p.m., Friday and Sunday 5-10:30p.m. and Saturday 5-11 p.m. Closed Monday and Tuesday.
TERRACE CAFÉ
Terrace Café is open 24/7 and has Daily Plates for $18. Daily Plates include an entrée special to each day and cup of soup or side house salad:
Sunday – BBQ Ribs, Baked Beans & Cole Slaw
Monday – Red Beans & Rice, Andouille Sausage & Jalapeno Cornbread
Tuesday – Crispy Fried Pork Chops, Macaroni & Cheese, Vegetables
Wednesday – Country Fried Steak with Sausage Gravy, Mashed Potatoes and Green Beans
Thursday – Crawfish & Shrimp Ettoufee with Steamed Rice
Friday – Fried Catfish with Hushpuppies and French Fries
Saturday – Salisbury Steak, Mashed Potato & Gravy
ROASTED BEAN
Get unlimited free refills of freshly brewed coffee at Roasted Bean. Offer valid daily with receipt of original purchase and only on brewed coffee, and must be redeemed at Roasted Bean. Not valid on specialty drinks or soft drinks. The Roasted Bean is open Sunday – Friday 6 a.m. – 11 p.m. and Saturday 6 a.m. – 11:30 p.m.
SNACKS
Take a break from playing and get a deli fresh bite to eat at Snacks on the casino floor! Guests can enjoy soups, salads, made-to-order sandwiches, pastries and more! Pizza is now available either whole or by the slice. Snacks is open 11 a.m. to 12 a.m. Sun-Thurs and 11 a.m. to 2 a.m. Fri & Sat.
M LIFE – M life Reward Members Receive 10 Percent Discount at IMMS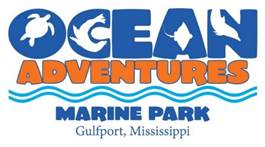 Beau Rivage Resort & Casino is a proud partner with Institute for Marine Mammal Studies, a Coast-based nonprofit for education, conservation and research. The institute cares for the sick and injured marine mammals and sea turtles. M life rewards members receive a 10% discount on general admission tickets to its Ocean Adventure Marine Park. Must present card to receive discount.
MYSTERY POINT MULTIPLIER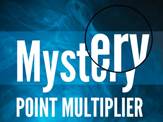 Every Sunday in August, M life reward members can win up to 20X points by visiting an M life Rewards kiosk and activating the Mystery Multiplier promotional tile.
GET THE M LIFE REWARDS MASTERCARD & UPGRADE TO PEARL TIER STATUS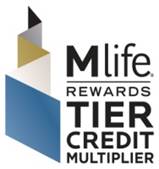 MGM Resorts International recently launched its new M life Rewards MasterCard®, in partnership with First Bankcard®, a division of First National Bank of Omaha and a leading issuer of credit cards.The M life Rewards MasterCard allows members to achieve higher Tier status, more rewards and benefits faster and turn everyday purchases into exclusive hotel, dining, entertainment and spa experiences at M life Rewards destinations. Cardholders earn M life Rewards Points and Tier Credits for every dollar they spend, including double points at gas stations and supermarkets and triple points for purchases at M life Rewards destinations. As a bonus, 10,000 M life points are attained after spending $1,000 within the first three billing cycles. Cardholders also receive an upgrade to Pearl Tier status and priority hotel check-in at all M life Rewards destinations. Additional cardholder benefits include complimentary self-parking and buffet line passes at M life Rewards' Las Vegas resorts.
DOUBLE TIER CREDITS
For every dollar guests spend on their hotel stay, dining, entertainment, or spa they earn Tier Credits – in Las Vegas guests earn 25 Tier Credits per dollar spent; at Beau Rivage, Gold Strike Tunica, and MGM Grand Detroit guests earn 8 Tier Credits per dollar spent. To ensure Tier Credits are credited to M life Rewards account, always use M life Rewards card while playing slots and table games at any participating MGM Resorts International destination. Also, show M life Rewards card at the time of each qualifying purchase, or charge these purchases to the room and present M life rewards card to the front desk at the beginning of your stay.
MGM RESORTS MVP – MILITARY & VETERANS PROGRAM
MGM Resorts' new program offers military and veteran member's access to exclusive discounts on select rooms, shows, dining, and experiences. Members can visit www.mgmresorts.com/military to access exclusive offers and available military experiences across MGM Resorts Destinations. As a Military & Veterans Program member, in addition to all the existing rewards offered through M life Rewards members will receive exclusive MVP benefits such as automatic upgrade to Pearl status.
CASINO
FREE CRAPS LESSONS
Beau Rivage Resort & Casino invites anyone over the age of 21 interested in learning craps to their free craps lessons! Lessons are Sunday – Friday at 1 p.m. located near the casino cage in the dice pits.
POKER
THE PROGRESSIVE ROYAL
Beginning June 1, 2019, in the Beau Rivage Poker Room any player that makes a royal flush will receive a Royal Flush progressive prize. The prize is determined by the suit of the Royal Flush. The Spade royal flush jackpot will start at $1,000 and increase by $200 daily. The Hearts royal flush jackpot will start at $500 and increase by $100 daily. The Diamonds royal flush jackpot will start at $500 and increase by $100 daily. The Clubs royal flush jackpot will start at $500 and increase by $100 daily. The promotion is only active in jackpot funded Hold'em games. Poker games must be raked and have a minimum of four players in order to qualify. The jackpot prizes will reset to their starting amounts each time a player wins.
TOURNAMENTS
$50,000 Guarantee No Limit Hold Em $360 Buy-in starts on the first Friday of each month
Military & First Responders $100 buy-in every Monday night at 6 p.m. no limit hold 'em and $20 added to prize pool for every military ID shown at registration.
Tues/Thurs Noon $1,000 Guaranteed $75 No Limit Hold 'Em 8,000 max starting chips
Tuesday Night No Limit $50 entry and $20 rebuys receives 4,000 in chips for any rebuy or addon
Wednesday Seniors Bonus Tournament No Limit Hold 'Em $100 Buy-in at 6 p.m. no limit hold 'em and $20 added to prize pool for every senior citizen (50+)
Wednesday Noon $75 Seniors Tournament and $10 added to prize pool for every senior citizen (50+)
Thursday Night PLO $50 buy-in $20 re-buys and add-ons
$5,000 Guaranteed Friday Tournament $100 + $30 No Limit Hold 'em at noon 10,000 max starting chips.
$5,000 Guaranteed Saturday Tournament $120 + $30 No Limit Hold 'em at noon 10,000 max starting chips.
Sunday Tournament Leaderboard Bonus Point Tournament $100 No Limit Hold 'em at 1 p.m. 14,000 max starting chips
$10,000 Little Monster No Limit Hold 'em Tournament $200 Buy-in every Saturday after the third Friday at noon
Little Monster every third full weekend Saturday at 11 a.m. $200 Buy-in $10,000 guaranteed
PROMOTIONS
24 Hours Sunday – Friday SPLASH In Limit Hold 'em games up to $6-$12 Limit, when the flop is 3 cards of the same suit, the a.m. pot will have $75 the p.m. pot will have $50
Omaha 8 or Better $10-$20 limit games or higher, the prize pot will be $100. Pot must be at least $50 to qualify
Texas Hold 'em High only active in jackpot funded Texas Hold 'em games. Highest ranking hand in each session wins a prize
Win Place Show every Friday and Sunday at 1 p.m. a player who makes a hand of Aces Full of Deuces or greater is eligible for a prize. Only active in jackpot funded games
Hours Promotion second and fourth full weekend Saturdays opposite the $50,000 and $10,000 tournaments. Each player who plays 40 hours or more in a month will be eligible for cash drawings
HOURS OF OPERATION
BR Prime
Friday & Saturday – 5:30 p.m. – 10:30 p.m.
Tuesday – Thursday – 5:30 p.m. – 10 p.m.
Bar opens at 5 p.m.
Jia
Wednesday & Thursday 5 p.m. – 10:00 p.m.
Friday 5 p.m. – 10:30 p.m.
Saturday 5 p.m. – 11 p.m.
Sunday 5 p.m. – 10:30 p.m.
Stalla Sunday – Tuesday 5:00 p.m. – 10:00 p.m.
Friday – Saturday 5:00 p.m. – 10:30 p.m.
Wednesday & Thursday Closed
The Buffet
Friday – 4 p.m. – 10 p.m.
Saturday – 8 a.m. – 12 p.m.; Closed noon – 3:30 p.m.; 3:30 p.m. – 10 p.m.
Sunday – 8 a.m. – 2 p.m.; Closed 2 p.m. – 4 p.m.; 4 p.m. – 9:30 p.m.
Monday – Thursday – 7:30 a.m. – 2 p.m.; Closed 2 p.m. – 4 p.m.; 4 p.m. – 9:30 p.m.
EIGHT75
Friday – 3 p.m. – 3 a.m.
Saturday – 12 p.m. – 3 a.m.
Sunday – 12 p.m. – 1 a.m.
Monday & Tuesday – 3 p.m. – 12 a.m.
Wednesday & Thursday 3 p.m. – 2 a.m.
Terrace Cafe – open 24/7
Haagen-Dazs – Sun –Thurs 12 p.m. – 10 p.m. Fri & Sat 12 p.m. – 11 p.m.
Roasted Bean – Sun-Fri 6 a.m. -11 p.m. and Sat 6 a.m. – 11:30 p.m.
Beau Rivage Spa – Open 9 a.m. – 6 p.m. daily, Saturday 9 a.m. -7 p.m.
Beau Rivage Salon – Open 9 a.m. – 6 p.m. daily, Saturday 9 a.m. -7 p.m.
Beau Rivage Box Office – Mon-Sun 10 a.m. – 9 p.m.
Waves – Mon-Sun 10 a.m. – 6 p.m.
Breeze Bar – open 24/7
Pool Hours – Mon-Thurs 8 a.m. – 9 p.m. Fri – Sun 8 a.m. – 10 p.m. daily
Pool Bar – Sun & Sat 10 a.m. – Dark
Pool Café – Daily 10 a.m. – 6 p.m.
Beau Rivage Arcade – Sun – Thurs 10 a.m. – 11 p.m. & Frid & Sat 10 a.m. – 12 a.m.
**Children under 10 must be accompanied by an individual of at least 16 years of age at all times.**