Plans are set for LakeFest 2019 in DeFuniak Springs, Florida, scheduled for Friday, May 17 and lasting through Sunday, May 19.  This year's family festival is a 3-day event hosted by the City of DeFuniak Springs, Florida celebrating safe, family-friendly outdoor recreational activities in the water and on the banks of beautiful Lake DeFuniak.  Admission, parking and most of the activities are free.  Numerous food and merchandise vendors will be on site to compliment the event.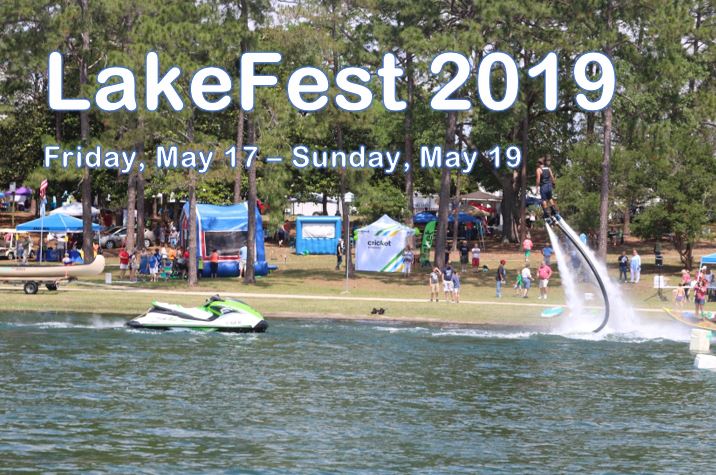 While the bulk of the activities are planned for Saturday, May 18 from 9am until 4pm, City organizers added a Friday and Sunday schedule to accommodate free kayak, canoe and paddle board courses by certified trainers of the American Kayaking Association (AKA) based in Columbus, OH.
Friday's schedule includes a fish fry beginning at 11am, a bonfire from 7pm-midnight, a Nighttime Kayak and Canoe Camping Course (already filled), a nighttime hydroflight demonstration by Hydroflight Athlete Ben Merrell, a free, family-friendly outdoor movie ("Bernie the Dolphin") in the amphitheater from 8pm-10pm, and free, overnight primitive camping on the festival grounds for those who signed up for any LakeFest paddling course. kayAll of these activities will take place in the amphitheater region of Chipley Park directly across from the train depot (Walton Heritage Museum), 1140 Circle Drive, DeFuniak Springs, FL 32435.
Saturday's schedule begins at 8:15am with kayak and paddle board surf race registrations.  The official event opening starts a 9am. Activities include live entertainment, hydroflight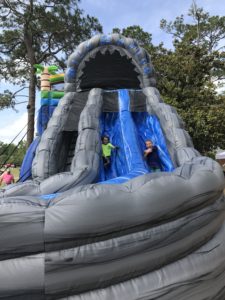 demonstrations by Hydroflight Athlete Ben Merrell, paddle sport and cardboard boat races, car show, craft and food vendors, Camp Kids (aka Kids Fun Zone) with bouncy houses, water slides and numerous children's activities, Poker Paddle fundraiser, a Lucky Duck Hunt on the Water for cash prizes, parade, and a 2-hour Beginners Course for kayak, canoe and paddle board enthusiasts by certified trainers of the American Kayaking Association.
Pre-registration is required online at www.defuniakspringslakefest.com. Look for the Paddling Courses web page.  Anyone who registers for a paddling course are provided a complimentary primitive camp site for overnight stays in their own tents.
Handicapped parking located on the festival grounds at the Chautauqua Hall of Brotherhood, 95 Circle Drive. Sidewalks from there make access to the festival easy for people in wheelchairs.  Tri-State Christian Camp is also providing rides for people in wheelchairs on the grounds in specially made golf carts and will also provide a 14-person canoe designed for people with disabilities.
Sunday's schedule is comprised of a free, 6-hour CERTIFICATION course for kayak, canoe and paddle board enthusiasts and a free clinic for people with disabilities who wish to explore the world of kayaking and canoeing with assistance from certified trainers of the American Kayaking Association. Accessible boats and gear will be provided.
Major financial and in-kind contributors of this event providing cash or services valued at over $1,000 include the City of DeFuniak Springs, Hilltop Production Events, Visit South Walton, Tri-State Christian Camp & Retreat Center, Jacobs, PanCare of Florida, Adkinson Law Firm, Gum Creek Farms, Gulf Power and the Walton County Health Department. Other sponsors are listed on the City's website and will be published on signs and in the printed schedule to be handed out at the event.
For a complete schedule or to sign up for free kayak, canoe, paddle board courses with primitive camping, visit www.defuniakspringslakefest.com or call the mayor's office at (850) 892-8500, ext. 225.