You Fly & We'll Drive will pick-up your car from your departure airport and deliver it wherever you're headed within the continental US. 
Drivers will transport your vehicle, belongings and/or pets and deliver your car freshly cleaned and with a full tank. 
We want to make sure that you are getting the most from your trip by getting there as soon as possible without the pain of driving. You Fly & We'll Drive takes care of fuel costs, tolls and all driver incidentals such as return flights, hotels and meals.


When was your company founded?
February 2019
How did you get the idea for the company?
The founder, Luke, having been in the service and transportation industry since 1979 saw a need for the flying and traveling public to have their vehicles delivered to their destination while they are able to fly, thus allowing for a seamless travel experience.
What locations do you pick up and drop off?
We work within the continental US – we will go anywhere within the United States but can make some exceptions for Canada
What are the advantages of "You Fly & We'll Drive?"
There are several:
You don't have to deal with the traffic jams
No sitting in a car of hours on end
For pet lovers, you can rest assured the pet is taken care of and not stuck in the bottom of the cargo hold of a plane (or have to pay an extra fare to travel under your seat).
You can load the car up with supplies you'll need at your destination without fear of having overweight luggage and/or paying extra to carry it all with you. Load up the car with your essentials and fly with ease and comfort, knowing everything will arrive on schedule.
Upfront costs – no hidden fees. The price we give is all-inclusive, meaning it covers gas, tolls, flights, etc.. We will not add on at the end of the trip.
How do you base your pricing?
The standard rate will range from $.55 – $.64/mile for standard size cars and $.69/mile for large vehicles, such as RVs or vehicles with V8 engines. This is also with being able to meet at airports for the pickup and delivery of the vehicles. We can go directly to a residence but would have to add the cost of an Uber/Taxi from the airport.  There is no definitive rate – it all depends on timing and locations, but those are the average rates.
Are you fully insured?
Our drivers have their own personal car insurance; however, we ask the clients add the driver to their policy for the duration of the trip to cover all parties
Do you do comprehensive background checks on your drivers?
Background checks have been performed
Anything you want to share about the company's mission statement, etc.? We are service driven company – we care about our clients and will help do whatever we can to get them where they need to be.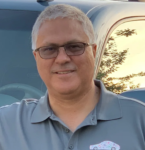 Hi, I'm Luke.
I'm the owner of You Fly & We'll Drive and your always-accessible go-to person for information or resolution. My personal goal is great service and satisfied customers.
I have 30 plus years in the transportation and customer service industry. I'm originally from Cape Town South Africa, and I've had many years and opportunities while traveling the globe to discover what customers appreciate. I've pooled our knowledge and resources together to bring you seamless service with great value.
Learn more about the full range of services and get a quote at youflywedrive.net.