Iowa Snowbird Club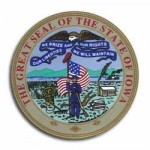 Iowa Snowbirds invite Iowans and guests to attend their breakfasts and the cocktail parties held during January through early March 2018.
Iowa Snowbird Club Co-Presidents, Steve and Chris Hedlund, have set the Snowbird breakfasts for the second and fourth Wednesdays in January and February. The first Iowa "breakfast" will be at OWA, a change from previous announcements.
The "meet and greet" coffee and donuts gathering will be Wednesday, January 10, 2018 at the Groovy Goat, 8 to 10 a.m. The cost will be $6 for an informal coffee time around small tables.
Reservations can be made on the website, Iowa-Alabamagulfcoastsnowbirds.org
Year Club was Found:
Location:
The Iowa Snowbird Club is located in Gulf Shores, Alabama
Officers:
2017 Officers
Contact Info:
Shari DeCook at 641-521-0929 or Sharon Hesselmann at 563-357-2721 
Schedule:
For the most up to date Iowa Club info, please visit their website at 
http://iowa-alabamagulfcoastsnowbirds.org/