Panama City Snowbird Club
2017 Panama City Snowbirds
The Ark, 12908 Hibiscus Street, Panama City Beach and Panama City Beach Senior Center, 423 Lyndell Lane, Panama City Beach, both serve the local seniors as well as the winter guest so lovingly called "Snowbirds".  
Snowbirds and Locals Winter Craft Program of The Ark
Saturday, December 10, 2016
Craft Show and Open House
9 a.m. – 2 p.m.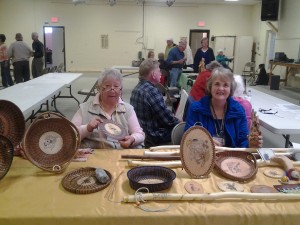 Vendors are still needed so if anyone is interested the could contact Donna at (850) 775-7242.  Lots of interesting vendor tables and a beautiful raffle table. Members of the Winter Program will be putting on displays to show what activities go on during December, January and February.  There is no charge to attend this event so please join us for a fun day and see what our Winter Program is all about.
The Ark, located on 12908 Hibiscus Street, Panama City Beach is the official location for the Snowbirds and Locals Winter Craft Program of The Ark.  http://www.thearkpcb.org/  Open Monday – Friday 10 a.m. – 2 p.m. for activities December 1 through the end of February of 2017.  All Locals and Snowbirds are welcome to join us.   We have a fully equipped Wood Shop where men and women can learn to turn bowls or pens or just come in and work on any project requiring a shop.  We have carvers and members creating some interesting intarsia projects.  This season we will also set up a room for Stained Glass where members can work on their project any time they want.  There will also be stained glass lessons.  Other projects that will be going on are:  Pine Needle Basket making, Misc. crafts…ongoing projects, Paper Tole, Creative Writing, Darts, Wood Burning, Music Jam Session with Frank, several Dance Classes, anyone wish to join and instruct are welcome with their new ideas. To pre-register for activities, 850-238-9345  http://www.thearkpcb.org/snowbird-registration
Panama City Beach Senior Center
The Panama City Beach Senior Center is a state of the art facility for seniors who are 50 years of age and older. The beautiful Emerald Coast draws many retirees to the area as they and many locals, in increasing numbers, have found and learned to value the Center, located at 423 Lyndell Lane, Panama City Beach, Florida.  Activities, social events, and volunteer opportunities for seniors and lead by seniors! You are always welcome to stop by and take a tour of our Senior Center Monday – Friday 9 a.m.-3 p.m. Membership is an annual minimal fee. 850-233-5065 or http://pcbsc.com/