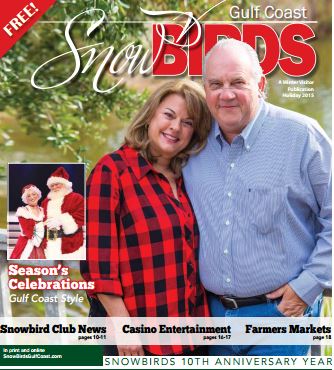 Advice? Prior to relocating, take advantage of vacation time to check out areas you're considering relocating to and try to visit during off peak travel times. You'll have an opportunity to see the area in its natural setting. Get to know the locals. They're a wealth of info and most are happy to offer insider tips that help enhance your experience. Have fun. Trust your instincts and go for it!"
Sunny skies draw couple to the Gulf Coast
Read the Holiday Edition, now available online
Randy and Frances Brewer retired permanently along the Gulf Coast four years ago. Randy grew up in cold and snowy Chicago, Ill., where he still has family while Frances hails from the milder winters of Houston, Texas. The couple met in sunny, Orlando, Florida and have two children, Wesley, 23 and Anthony, 18. Randy, 61, is fully retired after spending 40 years in the communications industry while Frances, 57, is employed locally as a Show Bookings Administrator of a locally owned and operated quilting tool manufacturer i n Pensacola.
Q. Where did you relocate from and why?
A. We relocated from the Nashville Tenn., area because, although a beautiful place to live, we didn't like the cold, dark winters. We prefer warm, sunny weather and the Emerald Coast fits the bill. We spent many summer and fall vacations with our children on the Emerald Coast and just love the beautiful beaches. We're also a 1 day drive from family in Houston and Nashville, so geographically, it's convenient!
Q. How did you choose Navarre over other options?
A. Navarre came to be the most economical area for us. Plus it's conveniently located between Pensacola and the Fort Walton/Destin areas. We've come to really love Navarre. The longer we're here, the more we just love it. The people here are the best! Everyone is so friendly. It's not uncommon to have a conversation in the checkout line at the grocery store or Post Office, even waiting for a red light to turn green! That never happened in Nashville. We've met many inte resting and fun people here!
Q. What are your hobbies?
A. Randy loves anything outdoors! He loves to fish, garden, cook, bake bread, kayak, spend time on the beach, and build things like decks! Frances loves anything outdoors, too! She loves spending time on the beach, kayaking, gardening, cooking, and all things sewing. She is active in the Santa Rosa Quilt Guild of Gulf Breeze, a member of the Crestview Chapter of The Modern Quilt Guild and a member of The American Sewing Guild-Pensacola Chapter.
Q. What areas do you volunteer?
A. Randy volunteers as the Vice President of the local Fishing Club for Holley By The Sea and in 2016 will take on role as Chair of the Garden Committee for the Panhandle Butterfly House in Navarre. Frances makes and contributes dresses to the "Little Dresses for Africa" campaign and in 2016 will Co-Chair the Charity Quilt Committee for the Santa Rosa Quilt Guild.
Q. Do you have special places you like to go (ie. attractions particularly regionally.)
A. We are still learning about the Florida panhandle, but some of our favorite places are the beach (of course… any local beach as they are all gorgeous), Blackwater River for kayaking and canoeing, and St. George Island.
Q. Fran, tell us about the stories of the quilts in your lap.
A. The one in my lap was started by my Mom when I was about 5 years old. It was her 2nd quilt to ever make but she never finished it as our home was flooded by big rains. It was packed away until about 15 years ago, when I carried it around intending to complete it. Well, I finally got around to it about a month ago! The fabrics are truly retro because they are remnants from clothing my mom made for every member of my family back in the 60's! My sisters and I will have fun reminiscing about all those old clothes we remember each other wearing! The one on the back of the chair is the 2nd quilt I made. The fabrics in it came from blankets made by my Mom for the Blanket Ministry she created about 20 years ago through her church in Sugar Land, Texas. I plan to give it to her for Christmas this year and yes it is a surprise! The other colorful one was the very first quilt I made after seeing Eleanor Burns (the Queen of Quilting) demonstrate her strip quilt met hod on PBS one afternoon.
Q. Randy, how did you discover the Panhandle Butterfly House and why did you get involved?
A. I originally noticed the gardens there when we first bought our home. Then l saw on their website they were looking for volunteers and since I love digging in the dirt, I contacted them. No matter where I've lived I've always been in a garden, vegetables mostly but Frances has always been a flower lover so I help dig, plant, fertilize, and mulch. The real bottom line is for the PBH to educate the community and increase public awareness about the butterfly's challenge in today's environment and provide a sanctuary for them on their migration.