Sue and Jim Williamson's love affair began in the third grade around the age of eight.
But they didn't start "dating" for four years – until the seventh grade.
 "We didn't actually go anywhere," Sue said with a chuckle. "Well, Jim's dad did drive us to the show."
The couple, both age 62, hail from rural Coldwater, Ontario, where they live on a 29-acre mini-nature preserve. The pair purchased a 26-foot travel trailer and are spending their second winter as Snowbirds in northern Santa Rosa County just off I-10 at the Avalon Landing RV Park. There Jim can pull out his beloved kayak at any time to paddle on the saltwater Indian Bayou. A sprawling wooden boardwalk gives Sue a chance to get in her daily walks.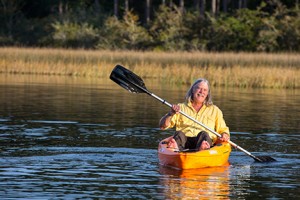 The couple arrived in October after spending September preparing for their return home after Christmas. The past five years have brought health scares for each of them that brought the reality that the time to retire and discover new places is now.
They have enjoyed exploring areas such as the Milton Riverwalk, piers in Navarre and Pensacola Beach, attractions such as the battleship in the Mobile, Ala., and the National Museum of Naval Aviation. Jim also has found a place where he can hunt.
They are planning trips to nearby New Orleans and to southern Florida to visit family.
The couple grew up in Aurora, Ontario, and maintained their youthful relationship until the ninth grade. They saw each other in social circles but didn't begin "dating" again until their late 20s.
"All through high school I dated a fellow and he dated the fellow's sister so we saw each other frequently," Sue said.
Each went off to college where Sue studied nursing and Jim psychology and English. Sue later married and had three children and when that relationship broke up she gave Jim a call.
Jim had been living as a loner in a cabin deep in the woods that didn't have running water. Sue won his heart all over again by bringing him French onion soup. He courted her with rides in the side car of his motorcycle (although she did have to compete for space with his dog who both admitted had seniority.)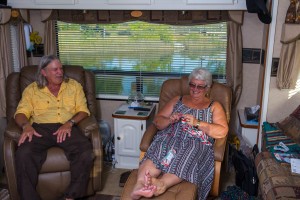 The couple married and added a fourth child to their blended brood and enjoyed family life amidst nature while pursuing professional careers. She later returned to gain her R.N. degree and Jim worked as a youth counselor.
The family enjoyed spending time together and traveled as far as Key West, Fla., and also Disney World and Cape Canaveral for a shuttle launch.
The empty nesters are grandparents to 10 from ages two months to 18.  Their children, including Steven, 40, Joshua, 38, Amanda, 34 and Jake, 27, are all thriving.
Next year they may extend their stay longer. Their Snowbird journey has just begun.