The 30A Company and The St. Joe Company proudly announce that seven-time GRAMMY award-winning trio Lady Antebellum will headline the inaugural 30A Sessions concert series, presented in partnership with Coastal Living.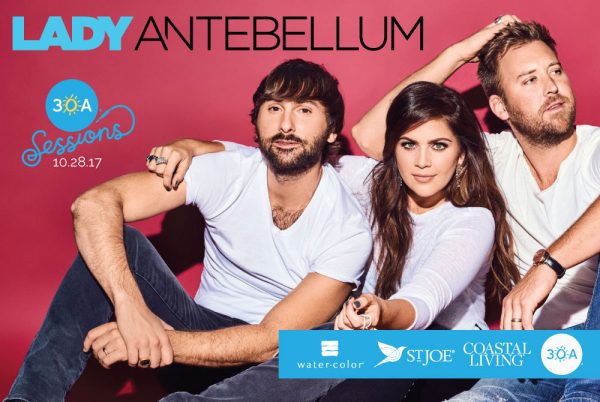 The first 30A Sessions concert will be held at WaterColor LakeHouse – a St. Joe Club & Resorts property – on Saturday, October 28, 2017.
Tickets for the show will go on sale online only on Friday, September 8, 2017 at 10:00 am CST. Details on ticket and lodging packages are available at 30Asessions.com.
"30A Sessions is Austin City Limits meets the beach," said Mike Ragsdale, Founder of The 30A Company. "A handful of guests will have the opportunity to experience Lady Antebellum's extraordinary talent up close and personal."
"Seeing a band like Lady Antebellum in such an intimate setting is something very few people will ever get to experience," said John David Sullivan, 30A Sessions Co-Founder. "We couldn't have asked for a better group to launch our 30A Sessions series."
Coastal Living is designing the 30A Sessions stage and VIP guest experience, with the help of local interior design company and Coastal Living Designer Network member Tracery Interiors. 30A Sessions will also be featured in Coastal Living's first Music Issue, which will debut in June 2018.
"The beach – especially the Gulf Coast – is the inspiration for so much of the music we all enjoy every day," said Steele Marcoux, Editor of Coastal Living. "WaterColor is one of the most beautiful beach resorts in the world, and Lady Antebellum is one of the industry's biggest talents. It's so exciting to be able to help bring music and the beach together in such an extraordinary way."
"St. Joe Club & Resorts is thrilled to present the inaugural 30A Sessions Concert Series, and look forward to providing an intimate, unique setting at WaterColor LakeHouse for guests of our properties, homeowners, and the public," said Patrick Murphy, Senior Vice President of Operations for The St. Joe Company. "We invite both new and repeat guests to take advantage of special 30A Session accommodation packages at our St. Joe Club & Resorts' properties, WaterColor Inn and 30A Vacation Rentals, to experience the talented Lady Antebellum and the beauty of the WaterColor community."
For tickets and concert info, visit 30Asessions.com.