Indiana Snowbird Club
All IN snowbirds: 
Welcome to the Gulf Coast, Indiana snowbirds!
Dates for Indiana Snowbird Club meetings are January 25, Feb. 8 & 22, and March 8.  The breakfasts are at the Luna Event Center (next to Cosmos behind Buzcatz Coffee Shop on Canal Rd). The cost for the buffet breakfast is $10 per person. (N0 $50 or $100 bills, please.)  Club dues are $2.50 per person.  The doors open at 7:30 a.m. and breakfast is served at 8 a.m. 
We will have a 50/50 drawing ($1 per ticket, or $5 for 6 tickets, or $10 for 13 tickets.) and door prizes galore.  If you did not sign up at the last breakfast please call Jan Pell,
317-914-5832
for reservations.  Come and greet old and new friends.  Bring any boxtops and can tabs to be donated to the Bon Secour Elementary School.  
Plans are being made for the firemen fundraiser Brat Fest-Feb. 3 at the Gulf Shores Activity Center 11-till sold out.
The Pancake Breakfast on Feb. 10 has been cancelled.
At the Jan. 11 club breakfast we had the pleasure of entertainment by Dane Bailey, the Singing Auctioneer from Huntington.  Dane, thanks so much for a wonderful experience.  We also had many door prizes given away and a nice 50/50 cash prize awarded to a gentleman from Bloomington. 
Next meeting will be held at the same place and same time on Jan. 25.  The speaker will be Rhonda Davis of the USS Alabama.  
 ​
Details: Bev Walker 513-519-9645 or bwalker@etczone.com.
2017 Season Recap
The 2017 membership was 130.
The final Indiana snowbird club breakfast for 2017 was held March 9 at the Cosmos Event Center on Canal Rd.  Dr. James Steinbaugh, gave a very informative presentation, "How to Avoid a Heart Attack."  Monetary gifts were presented to the Coastal Choral and the Gulf Shores Band.
Some events for 2018 are:  (1) the breakfasts will again be held at the Cosmos Event Center, (2) the cost will $10, (3) $50 or $100 bills will not be accepted,  
(4)  50/50 drawing will be introduced, (5)a collection of can tabs to be donated to Bon Secour Elementary, (6) a gift basket for the Trivia Nite. and (7) a booth at the Snowbird Expo. 
Thanks to Cosmos for hosting our breakfasts and to the many merchants that donated door prizes for our members. 
​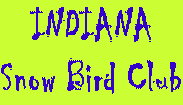 Club History
Indiana has a rich tradition of being "Winter Visitors" on the gulf coast. Is it the winter doldrums in that great lakes state that motivates so many Hoosiers to skedaddle out of the state to warmer climes during the winter months? The Indiana Snowbird Club was finally formed in 1996 – 1997. The first formation meeting was held in the old American Legion Hall on AL 59. That building is no longer there, but from the few individuals who were there, the club was born. The club is in session only during the several winter months that visitors are present, and since many Hoosiers do not even arrive until after January 1, we have settled on five regular meetings per season, beginning in January and ending in March. We have met in several different places over the years, but we were the first snowbird club to make arrangements at Lulu's, on the north bank of the Intracoastal Waterway on Alabama 59 in Gulf Shores.
We have an average attendance at our breakfast buffets of approximately 160 members, who hail from all parts of Indiana. Last year, the club had 217 dues-paying members. Some live permanently in the south but still claim their heritage as a Hoosier. But we create a new membership list every year, members from every part of the state of Indiana, but we remain one of the smaller clubs meeting regularly.
It's an interesting thing to observe, but Indiana has some of the most unusual names for towns of any of the Great Lakes states. That's one of the conversational subjects batted around during our get-togethers. From "Fishers", Indiana to "Eureka", Indiana (shouted by everyone who manages to find the place). There are lots of Indian names for towns, too, such as "Shipshewana" and many others.
The beaches are the big attraction here for Hoosiers, as it is for other states. Some of our members spend the whole winter months in RVs in the state park, or in other well recognized RV Resort Parks. It's hard to beat some of the friendships established in RV travel. Somehow, when travel brings you to the gulf coast of Alabama, where there is no ice and snow, folks just think they have found their own particular corner of the world. The decision to 'come back' or to "stay here" is made, and many have begun a second home here.
Year Club was Found:
1996-1997
Location:
Gulf Shores, Alabama
Officers:
Contact Info:
Bev Walker at 513-519-9645 or Jan Pell at 317-914-5832 for reservations. 
Schedule:
Indiana Club meets for breakfast at 8 a.m. on the second and fourth Thursday January-March, 2018. Doors open at 7:30. The Event Center at Cosmos, 25753 Canal Road, Orange.