Missouri Snowbirds – 2023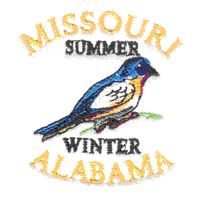 Most of us are from Missouri, but we have members from all around the country.  We know there are many snowbirds that come to the Alabama area and are not members of a snowbird club, and we would like to extend an invitation to ALL SNOWBIRDS to join us for our activities.  We have 2 or 3 activities every week during the months of January and February, and we welcome YOU to join the fun.  Check out our schedule of activities on our website and sign up to join us: https://missourisnowbirds.org/
The Missouri Snowbird club meets every Wednesday at 8:30 a.m. for breakfast at Tacky Jacks in Gulf Shores located at 240 E 24th Ave, Gulf Shores, AL 36542.  $14 includes a buffet breakfast, coffee & juice, tax, and tip.   You can reserve on our website and you'll pay at breakfast.  At breakfast you'll get all the updates on our upcoming activities and have the opportunity to sign up for upcoming activities.
If you are a golfer, both men and women play a golf scramble every Wednesday at 1:00 at the Gulf Shores Country Club at 520 Clubhouse Drive in Gulf Shores.  You do need to reserve and you can do that at the breakfast meeting that same morning.
Not into breakfast or golf, then join us for our weekly Happy Hour.  We meet every Monday at 4:00 at Cobalt, the Restaurant located at 28099 Perdido Beach Blvd. in Orange Beach.  They have happy hour food and drink specials, or you can order dinner off the menu.  This is a very relaxed happy hour where you'll get to meet many new friends.  We would appreciate it if you would reserve on our website, but you can just show up.  We are in banquet room in the back.
We have a Private Facebook page for our members and those looking to join us.  All you have to do is log into Facebook, locate the Missouri Club of Gulf Shores, and request to join.  Our administrator will approve your request — and you're in!  You'll be able to stay in touch with your fellow Snowbirds and our activities.
If you have questions please send an email to mer2@charter.net.  And if you need a call back please include your phone number.