Are you Pet Savvy?
Originally posted December 2006
by Michelle Harrell aka "Poodlemama"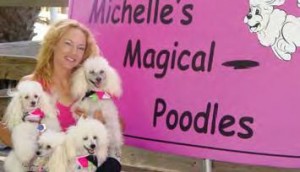 Having traveled with my three wonderful poodles across the country and back three times, I can tell you a thing or two about the dos and don'ts.
I often brag that my poodles are the most well-traveled, hotel-savvy doggies around. I could swear that my girl poodle, Blondie, can tell the difference between the expensive hotel and the budget hotels.
She's partial to the big fluffy pillows.
Fortunately, many higher end, as well as budget, hotels have become pet friendly as more and more travelers begin to take their extended family along. Being prepared is essential to a successful travel with pets.
Many hotels who advertise "pet friendly" do not advertise their pet fee, which varies greatly from hotel to hotel.
However, I have found that this fee can be negotiated if it's a "per pet" fee.
Call ahead, ask to speak to the hotel manager and try and make an arrangement, especially if you are staying for several days. Many times, they will come down on the price enough to make a huge difference over the course of your vacation stay.
One thing I always look for when booking a pet-friendly hotel is a nice grassy area to walk the doggies. If a hotel is too close to the interstate, chances for this are a slimmer. Inquire about the surroundings, pet area, level of traffic and noise.
When leaving the room, make sure that housekeeping is aware there's a pet in the room and hang the "do not disturb" sign on the door before departing. When I first began traveling with my dogs, I used a training method to keep them from barking at everyone who happened to walk by the room.
After leaving the room, walk several feet away, then approach making some slight noise. If the barking begins, enter the room, sternly tell them, "no barking" and repeat this a few times.
So far, we've never had a barking complaint and I'm often told by housekeeping that they didn't even realize there were dogs in the room.
Another option for pet friendly accommodations is vacation rental homes. Recently, while performing at a festival in the Georgia Mountains with my poodles, I found myself without many pet-friendly hotel options.
Most were too far away from the location that I needed to be at daily.
I was delightfully surprised to find several pet-friendly cabins, chalets and homes varying from small and inexpensive to larger homes able to accommodate eight or more people and furry friends.
These also vary in pet fee, number and size of pets but most are extremely negotiable and easy to deal with. The best option is to find properties that are managed "by owner."
My particular property was just that and came with a welcome gift, a nice bottle of wine and dog treats. Now there's an accommodation after my
heart.
Until next time, Happy trails and tails!!!
Michelle's Magical Poodles is a show full of classic and traditional circus style tricks. For more information about Michelle and her Magical Poodles, please visit her online at statueviva.com/poodles