Pet Savvy Traveler
Originally posted January 2007
by Michelle Harrell aka "Poodlemama"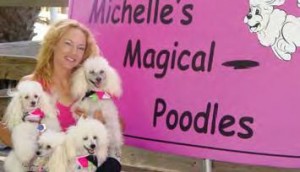 Okay, so you've packed up everything you need for winter and headed south with your furry friends. But when you travel away from your home environment, potential danger is everywhere.
If you have a a pet like my mini poodle Cupid, it's also important
to know what to do in case they ingest something possibly harmful in the non plant form as well.
Cupid, who should have been named Snoopy for the way he likes to snoop through my bags in search of anything edible, happened to tear into a bag of honey flavored cough drops while I was traveling and performing in Wisconsin.
Since cough drops contain a pain reliever, this could've been quite harmful to the doggies.
Being that I was out of the room at the time, I wasn't sure exactly which of the three poodles had actually eaten the drops, but I had a sneaky suspicion. After contacting the emergency vet, she suggested that I administer Hydrogen Peroxide to each of the doggies.
This will induce vomiting immediately. Well, my hunch had been correct since Cupid had eaten the drops with wrapper and all. The proof was in the pudding so to speak.
There's bound to be plenty of delicious chocolate left over from the holidays in your home away from home. This is a rather controversial food item for dogs and cats. Some vets I've spoken to say that it's completely toxic and others tell me it can certainly make them sick to their stomach and that the caffeine can cause problems.
Just like with children, massive amounts can cause the typical stomach ache and hyperactivity. This being said, slipping a bite or two to the furry friend is still not
recommended.
My poodles are notorious beggars when it comes to this.
So, if you must slip them something, try to find a piece of the turkey that has no or little spice on it. Keep a watchful eye on the kid's table too. My Cupid quickly found out how much fun it is when my great niece is eating and is quick to scarf up anything dropped on the floor.
Being prepared in case of an accidental poisoning with food or plants is essential. A first aid kit with the following items is recommended. A fresh bottle of Hydrogen Peroxide, a syringe to administer the peroxide, saline eye solution, artificial tear gel to lubricate the eyes after flushing, mild grease-cutting dish washing liquid to bath the animal in case of a skin contamination, tweezers to remove splinters, sand spurs or other foreign objects.
However, it is strongly recommended that the local emergency vet be contacted before using any of the first aid items. The ASPCA also has a Poison Control Center at 888-426-4435. A consultation fee does apply.
The ASPCA website is also available at http://www.aspca.org. They offer information on poison control with a list of poisonous plants from A-Z.
So, from our house to yours we wish you happy trails and tails!
Michelle's Magical Poodles is a show full of classic and traditional circus style tricks. For more information about Michelle and her Magical Poodles, please visit her online at statueviva.com/poodles