Pet Savvy, The Senior Pet
Originally posted January 2009
by Michelle Harrell aka "Poodlemama"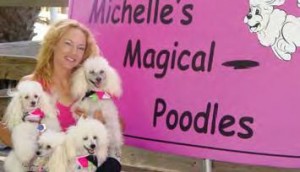 As I watched this past year my star performer, Cupid, tumble off the edge of the stage (unhurt thankfully), I realized he was getting older.
Cupid has begun to loose some vision and has developed chronic canine bronchitis. Both of which require changes in the routine for our stage act as well as everyday life.
Since we travel about six months out of the year, it's extremely important that I pack enough of the required medication. That's simply because many vets cannot administer drugs for out of state prescriptions Being that I have an incredible, hands-on vet, she also taught me how to make a traveling nebulization system so that Cupid would always get the treatments when needed.
Learning how to be mobile with four dogs is difficult enough, but this year, I learned more about traveling with the senior pet. I'd like to pass on some tips for those of you who are caring for an aging furry friend as well.
Take care of your fur babies and appreciate all the years of love that they give us!
Always ask for a hotel room on the first floor to make it easier for those pets with arthritis.
Put a friend at home in charge of picking up and mailing any extra medication in case of emergency.
Pack a doggie ramp or stairs to make it easier for them to get into the car or onto the bed.
Remember to be their guide and that fading sight and unfamiliar territory can be frightening for them.
Pack lots of doggie pads, things may not be working like they used to and they may not be able to make it outside.
Be patient, their walk might be slower and take longer.
To be present, aware and in the momentMake sure to bring their favorite doggie bed or blanket, this will make them feel safe and calm.
Always know where the nearest 24-hour emergency vet is located, with a map from your hotel ready.
Be aware of new plants and vegetation, know what's poisonous to your pet.
Be the best friend to them that they've always been to you.
Take care of your fur babies and appreciate all the years of love that they give us!
Until next time, happy trails and tails.
Michelle's Magical Poodles is a show full of classic and traditional circus style tricks. For more information about Michelle and her Magical Poodles, please visit her online at statueviva.com/poodles