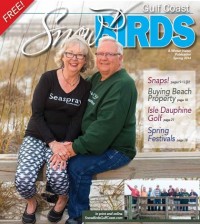 Spring 2016 Magazine Available Now!

Welcome! As I write this I'm just a day removed from a seven-day cruise – and working against a tight deadline. My wonderful graphic designer, Renee...
Cover Couple: March 2015

Although they have been traveling to the Alabama Gulf Coast for some 20 years, Leanna and Mel Trombley finally made the decision this season...

Cover Couple: February 2015

Canadian Snowbirds Timi Millar and her husband, Tom, of Winnipeg, Manitoba met more than 25 years ago while competing in the sport of Curling. Not...